Proudly presented and supported by Blue Mountains City Council in partnership with
Fusion Boutique Presents and Shelter Studios:
LOVE LOCAL LIVE Series 2 – a 2nd showcase of live streamed music performances by local artists held at a local recording and rehearsal studio with production by KFM Media.
Every Thursday 7:30-8:30pm for 5 weeks from 15th October.
Love Local Live

11) –

EAGLE & THE WOLF
Thursday 12th November 7:30-8:30pm
FREE LIVE STREAMED MICRO MUSIC CONCERT
Love Local Live was the Blue Mountains City Council's first-ever series of local events that was brought to the community via live streaming.
Blue Mountains Mayor Mark Greenhill said: "While restrictions are slowly easing, public gatherings are still limited and we understand many in our community are hesitant to venture out into crowds. That's why Council is still looking for creative and safe ways to engage with you. The new Love Local Live series will bring a little entertainment to you, wherever you are, while supporting and promoting local businesses and creatives."
Due to the overwhelming popularity of the first live streaming series a 2nd series of the Love Local Live streaming project is being presented.
Fusion Boutique's curator and producer Charity Mirow couldn't be happier to have the chance to showcase some more of our fabulous local talent and work with some of the wonderful creatives of our region, especially when the current climate remains so challenging surrounding venue capacities, national and international touring and live music in general.
More information on the upcoming artists will be posted on the Fusion Boutique Presents facebook page: www.facebook.com/FusionBoutiquePresents
. . . . . . . . . . . . . . . . . . . . . . . . . . . . . . . . . . . . . . . . . . . . .
Built from heartbreak, forged on love. Sarah Humphreys and Kristen Lee Morris met and decided to make a life and music together as Eagle & The Wolf. There's nothing fancy or fake here, just open hearts, great songs and the truth. Together they are truly magical.
"Two of Australia's finest singer-songwriters, indie-pop goddess Sarah Humphreys and alt-country troubadour Kris Morris, met, fell in love and now they're making beautiful folk music together as Eagle & The Wolf." – Timber & Steel
Sarah Humphreys has spent the last ten years opening her heart as she has grown into a woman, a mother and undoubtedly one of this country's finest singers and songwriters.
Kris Morris is forging a reputation as one of Australia's finest, and most honest, country & blues musicians.
www.facebook.com/eagleandthewolf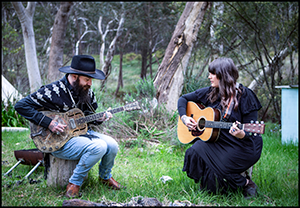 Images by Inertia Photography.
As part of the project each performer will have a photo shoot with Inertia Photography to provide them with images to add to their portfolio.
www.inertiaphotography.net
www.facebook.com/inertiaphotographybyLonaa
www.instagram.com/masala_madam
. . . . . . . . . . . . . . . . . . . . . . . . . . . . . . . . . . . . . . . . . . . . .
VENUE: SHELTER STUDIO
Unit 1 / 79 Barton St, Katoomba, NSW, 2780, Blue Mountains.
www.shelterstudio.com.au
Phone 0466 719 268 for recording and rehearsal bookings.
Show your support for the arts and join us online every Thursday night 7:30-8:30pm from 15th October for 5 weeks.
FREE VIEWING. Show 7:30pm-8:30pm.
More information on the upcoming artists will be posted on the Fusion Boutique Presents facebook page and you can set a reminder for the next week's stream: www.facebook.com/FusionBoutiquePresents

Visit the 'Live' tab to view all active and past streams:
www.facebook.com/FusionBoutiquePresents/live_videos
A season 1 highlights video along with the previous live mini concerts can also be viewed on our Youtube channel:

CONTACT DETAILS: Charity Mirow 0409 042 869
For more information visit: www.fusionboutique.com.au