Proudly presented and supported by Blue Mountains City Council in partnership with
Fusion Boutique Presents and Shelter Studios:
LOVE LOCAL LIVE – a series of live streamed music performances by local artists held at a local recording and rehearsal studio with production by KFM Media.
Every Monday 7-8pm for 6 weeks from 15th June.
Love Local Live 5) – THE 

THREE HANDED BEAT BANDITS


Monday 13th July 7-8pm
FREE LIVE STREAMED MICRO MUSIC CONCERT
Love Local Live is Blue Mountains City Council's first-ever series of local events that will be brought to the community via live streaming.
Blue Mountains Mayor Mark Greenhill said: "While restrictions are slowly easing, public gatherings are still limited and we understand many in our community are hesitant to venture out into crowds. That's why Council is still looking for creative and safe ways to engage with you. The new Love Local Live series will bring a little entertainment to you, wherever you are, while supporting and promoting local businesses and creatives."
More information on the upcoming artists will be posted on the Fusion Boutique Presents facebook page: www.facebook.com/FusionBoutiquePresents
. . . . . . . . . . . . . . . . . . . . . . . . . . . . . . . . . . . . . . . . . . . . .
The Three­ Handed Beat Bandits are undoubtedly the best three handed little big band in the world today.
Made up of the two-handed John Stuart and the single­ handed Neill Duncan, between them they play guitar, bass, congas, drums and saxophone, all at the same time.
Megaphone vocals included, this beat combo swing their listeners through a kaleidoscope of musical styles, including reggae, ska, calypso, funk, swing, and a little klezmer thrown in for good measure.
Beautiful to the ear, great for the feet.
Neill Duncan is one of New Zealand's most exciting and eccentric musicians, now a resident of the Blue Mountains. Three years ago he lost his left arm to cancer. With the help of the community, Neill has been able regain full musical strength. Neill now plays an incredible one-handed tenor saxophone, designed and built in Amsterdam. His passion and musical imagination flow like never before. An adapted drum kit completes the mix, with some additional weird and wonderful instruments.
John Stuart is a master of the seven-string guitar. This amazing instrument allows John to cover the bass as well as provide the chordal accompaniment to the Bandit's wide­ ranging repertoire. John is all about texture and space, switching between driving bass lines, and sparkling single line accompaniments. Bass solos? No extra charge. Add in the hot conga playing and all the elements of this extraordinary duo fall into place. Even the silences swing!
Together they are the Three Handed Beat Bandits. Their exotic musical gumbo will steal your heart.
www.facebook.com/threehandedbeatbandits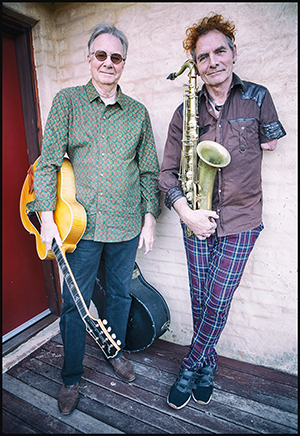 Images by Inertia Photography.
As part of the project each performer will have a photo shoot with Inertia Photography to provide them with images to add to their portfolio.
www.inertiaphotography.net
www.facebook.com/inertiaphotographybyLonaa
www.instagram.com/masala_madam
. . . . . . . . . . . . . . . . . . . . . . . . . . . . . . . . . . . . . . . . . . . . .
VENUE: SHELTER STUDIO
Unit 1 / 79 Barton St, Katoomba, NSW, 2780, Blue Mountains.
www.shelterstudio.com.au
Phone 0466 719 268 for recording and rehearsal bookings.
Show your support for the arts and join us online every Monday night 7-8pm from 15th June for 6 weeks.
FREE VIEWING. Show 7pm-8pm.
More information on the upcoming artists will be posted on the Fusion Boutique Presents facebook page and you can set a reminder for the next week's stream: www.facebook.com/FusionBoutiquePresents
Visit the 'Live' tab to view all active and past streams:
www.facebook.com/FusionBoutiquePresents/live_videos

CONTACT DETAILS: Charity Mirow 0409 042 869
For more information visit: www.fusionboutique.com.au