The HINTERLANDT ENSEMBLE

Hotel Blue, Upstairs "Live At The Attic" Katoomba, Blue Mountains.

Sunday 20th September 2015, 4:30pm. Doors Open 4pm.

Contemporary Neo Post Indie Chamber Music.
The Hinterlandt Ensemble is dedicated to an acoustic sound aesthetic. The group features Bronwyn Cumbo and Natalya Bing on violins, Simeon Johnson on cello, and Jochen Gutsch on acoustic guitar and trumpet.
Hinterlandt has entered into a new phase. Previously it was Jochen Gutsch's solo project that has recently transformed it into an acoustic ensemble. Since this change the music has become much more sophisticated. The ensemble is performing original material composed by Jochen and brought to life by the players with their own artistic personalities.
Website: www.hinterlandt.org
Facebook: www.facebook.com/hinterlandt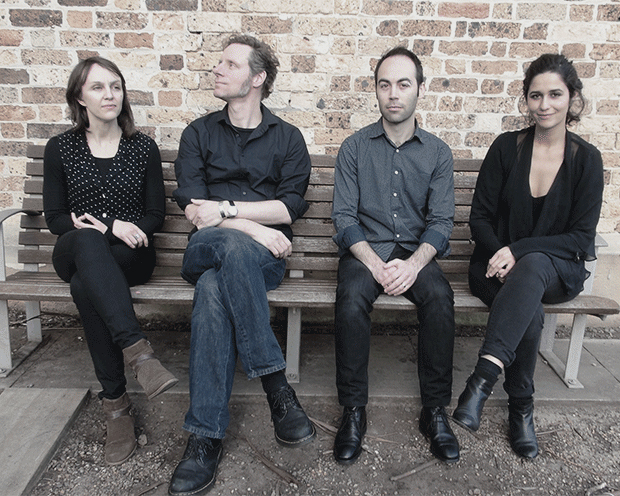 VENUE:
HOTEL BLUE "LIVE AT THE ATTIC"
Upstairs, 88 Lurline St, Katoomba, NSW 2780
Blue Mountains
Doors Open 4:00pm. Show Starts 4:30pm.
General Admission. Theatre Style Seating.
Tickets $10 pre-sale available from:
HOTEL BLUE (during reception hours)
88 Lurline St, Katoomba, NSW 2780 (Cash Only)
Or Card /Phone 02) 4782 6922 and Online $11.50 (Including booking fees):
www.trybooking.com/IPOS
Or $15 on the Door from 64pm Sun 20th September 2015 (Unless Sold Out)
This is an intimate seating venue and tickets are strictly limited!

CONTACT DETAILS: Charity Mirow 0409 042 869
For more information visit: www.fusionboutique.com.au