SARAH McLEOD (The Superjesus) "Rocky's Diner" Album Launch Tour
+ Special Guests Lola Sola and Paperhill
at Baroque Room, Carrington

Fri 13th October 2017
Venue: BAROQUE ROOM 86 Bathurst Rd (Upstairs from 'The Harp & Fiddle' Irish Bar), Katoomba, NSW 2780 Blue Mountains.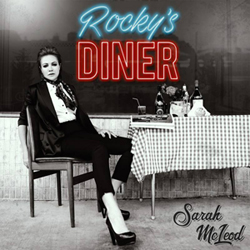 Sarah McLeod's highly anticipated first solo release in 12 years ROCKY'S DINER is officially out. To celebrate, The multiple ARIA Award winning, platinum-selling artist has just announced the first run of dates on her massive national tour. The epic ROCKY'S DINER tour will run from October right through to November, and will showcase her newest work which marks a radical change of creative gears for Sarah.
McLeod created the album in near-complete isolation during a three-month stint in New York. She bunkered down in the bitter cold, watching the world go by outside her Brooklyn apartment, finding her muse in watching the lives of locals.
"I took my whole studio set up in a Samsonite hard case… There was zero room for clothes except for what I was wearing, I figured I'd buy more clothes when I got there. I wasn't planning on going anywhere so I didn't need much, the lack of party attire would hopefully eliminate any temptation to party, I was here to work."  – Sarah Mcleod
Her first single off the album, "Giants", was released with a beautiful video, with the treatment written by Sarah herself.
Following her huge achievements as the front woman of South Australian rock-band The Superjesus, she made her first move as a solo artist in 2005 with her debut album BEAUTY WAS A TIGER. Now, she continues this exciting journey with ROCKY'S DINER.
Don't miss the opportunity to see Sarah perform live!
Joining her will also be Mick Skelton (Baby Animals / Thirsty Merc) on drums.
 . . . . . . . . . . . . . . . . . . . . . . . . . . . . . . . . . . . . . . . . . . . .
+ Special Guests Lola Sola and Paperhill (Solo)

With her roots in Aotearoa, Lola Sola is a singer-songwriter with a dynamic vocal range and emotive lyrics; blending folk, soul and a hint of blues.
Lola's solo performances are intimate and captivating. Her shows are always developing with the different collaborative efforts of the musicians she works with.
She has released her first studio album 'Walking Back from Hell' in mid 2016 and has toured the East Coast of Australia and New Zealand nationwide. Earlier this year she successfully crowdfunded her first independent music video for single 'Swim' filmed in New Zealand and due to be released in november this year.
She will be joined by Sydney guitarist Jack Perry on the night.

www.facebook.com/lolasola.music
Paperhill solo is Oliver Morley-Sattler (guitar/vocals) who gives high energy, emotive and sometimes even political uplift with bright melodies and driving rhythms, sending feet tapping and hearts yearning.
From Katoomba, NSW, Paperhill bring a unique and exciting sound. Bring a spare pair of socks…
www.facebook.com/paperhillmusic

 . . . . . . . . . . . . . . . . . . . . . . . . . . . . . . . . . . . . . . . . . . . .
Venue: BAROQUE ROOM
86 Bathurst Rd (Upstairs from 'The Harp & Fiddle' Irish Bar)
Katoomba, NSW 2780 Blue Mountains
*Please note that the 'Baroque Room' is an over 18 years only venue. No minors will be granted entry to the event.
General Admission. Room configuration is a mix of standing/dancing and cocktail lounges.
Tickets DISCOUNT Early Bird pre-sale $20 available from:
KATOOMBA MUSIC, 140 Katoomba St, Katoomba, NSW 2780 (Tues-Sat. Cash Only)
Or online + booking fees $23.50 through Oztix: https://sarahmcleod.oztix.com.au/?Event=75868
Or $25 on the Door from 8pm (Unless Sold Out)