Fusion Boutique Presents 'Metro Social' with
DIAMOND DUCK EP Launch Tour
+ THE BUTTON COLLECTIVE
Live in Concert at the 1930's Metropole Guesthouse.
Saturday 12th May 2018, 6pm. Doors Open 5pm.
*** This show is now SOLD OUT!
For a fabulous range of other Blue Mountain events visit: www.fusionboutique.com.au
We advise booking early to avoid disappointment.  ***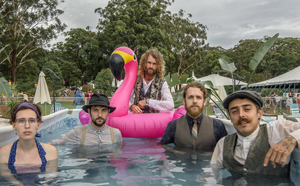 The Button Collective is a high-energy travelling Folk & Bluegrass band. Their guitar-driven sound delivers definitively Australian stories combined with elements from traditional Irish folk songs and tunes, and spiced with the spirit of fast-paced American old time music, all with a personal and intimate delivery from singer and songwriter Brodie Buttons, backed by accordion, bass, banjo, fiddle, flute, and rich vocal harmonies.
www.facebook.com/pg/buttoncollective
https://thebuttoncollective.bandcamp.com
. . . . . . . . . . . . . . . . . . . . . . . . . . . . . . . . . . . . . . . . . . . . .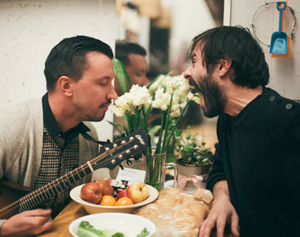 Featuring a rich tapestry of plucked strings, lush vocal harmonies, highly original songs and a diverse range of influences from The Beach Boys to Bach, Diamond Duck is an exciting new collaboration between Sydney mandolinist and song writer Jimmy Daley (The Morrisons, Sanctuary Band, Tawny Owl String band) and Canadian born guitarist, vocalist and song writer Brian Campeau (Green Mohair Suits, Rescue Ships).
2018 sees the release of their highly anticipated debut recording with an east coast tour through May to celebrate…
"Evoking the close harmony singing of the Everly Brothers and Simon & Garfunkel, Diamond Duck explore an unusual, almost twisted sound in their accompaniment while maintaining a sweetness in their vocal delivery…there is something a little off kilter and it's absolutely delicious" – Timber & Steel.
www.facebook.com/diamondduckband
https://diamondduck.bandcamp.com/releases
https://www.youtube.com/watch?v=0cTZ8H9M9Tc
. . . . . . . . . . . . . . . . . . . . . . . . . . . . . . . . . . . . . . . . . . . . .
VENUE:
'METRO SOCIAL' Metropole Guesthouse Lounge Upstairs (lift available) Cnr of Lurline and Gang Gang Streets, Katoomba, Blue Mountains NSW 2780.
Opposite the Katoomba train station.
If entering from the front the cocktail bar/restaurant is on the right and access to the upstairs performance space in the lounge is up the stairs or via the lift towards the back of the hotel.
Access can be made through the rear and the lift to the lounge is in the atrium.

The Metropole is an all ages venue however minors must be accompanied by a parent or legal guardian and must remain supervised and do require a standard ticket for entry. Please also keep in mind that the performance space is a listening room.
There is also a retro cocktail bar downstairs and drinks and light meals will be available from the Metro Retro pop up bar upstairs once doors open.
Doors Open 5pm. Show Starts 6pm.
General Admission. Theatre Style Seating, cocktail lounge and some standing room.
Tickets $15 DISCOUNT pre-sale available from THE METROPOLE GUESTHOUSE (during reception hours) Cnr of Lurline and Gang Gang Streets, Katoomba, Blue Mountains NSW 2780. (Cash Only)
Or + b/f Card /Phone 02) 4782 5544 and Online $16.50 (Including booking fees):
www.stickytickets.com.au/63962
Or $20 on the Door from 5pm (Unless Sold Out)
This is an intimate seating venue and tickets are strictly limited!

CONTACT DETAILS: Charity Mirow 0409 042 869
For more information visit: www.fusionboutique.com.au