The Pigs Spring / Summer Tour at Hotel Gearin

Sat 4th Feb 2017
Venue: HOTEL GEARIN, 273 Great Western Hwy, Katoomba, Blue Mountains NSW 2780.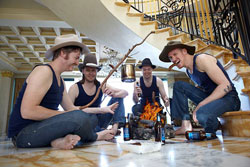 As seen on Spicks and Specks and Australia's Got Talent! The Pigs are comin' back to the Mountains. With some Mount'n music!
Unashamed bluegrass sinners, The Pigs have been spreading their supercharged hillbilly pop around Australia and the world for over 12 years. Their ability to turn hit pop songs into downright foot-stompers is legendary and their kooky original anthems like 'Macho Moisturiser' and 'Hey Christina' are sung from Berlin to Bendigo.
Following three celebrated albums, international tours, Golden Guitar nominations and a trip to the dentist, 2015 saw the release of their iconic Aussie album, 'The Pigs Home Brew' and the crazy national tour that ensued, including major festivals, regional theatres and TV appearances – even singing "Ita" to Ita Buttrose (she loved their shiny teeth)!
T-Bone, Stretch, Cousin Shamus, Cousin Montz and Cousin Bert will perform crowd-favourite tunes from 12 Years on the road. With double bass, acoustic guitars, mandolin, stand up drums, banjo and big bluegrass vocal harmonies, The Pigs' barefoot-genre-bending-energy appeals to just about anybody with a pulse!
The band is known for its dynamic and entertaining live performances guaranteed to get your feet stomping and your faces smiling.
They will be playing a huge two full length sets from 9pm.
www.thepigs.com.au
. . . . . . . . . . . . . . . . . . . . . . . . . . . . . . . . . . . . . . . . . . . . .
Venue: HOTEL GEARIN
273 Great Western Hwy, Katoomba
Blue Mountains NSW 2780.
*Please note that Hotel Gearin shows are over 18's only.
Doors Open 8:30pm. Show Starts 9pm.
General Admission. Room configuration is a mix of cabaret seating and standing/dancing.
Tickets DISCOUNT Early Bird pre-sale $20 available from:
KATOOMBA MUSIC, 140 Katoomba St, Katoomba, NSW 2780 (Tues-Sat. Cash Only) or the Hotel Gearin front Bar during open hours.
Or online $21.50 (Including booking fees): www.stickytickets.com.au/44917
*Please Note – there are a limited number of pre-sale discount tickets available!
Or $25 on the Door from 8:30pm (Unless Sold Out)