Great Southern Nights in association with Fusion Boutique Present
MURRAY COOK'S SOUL MOVERS
+ Special Guest LINDA MIZZI
Live in Concert at the Baroque Room, Carrington Hotel
Saturday 2nd April 2022
Doors Open 7pm | Show Start 8pm
Venue: BAROQUE ROOM 15 Katoomba St, Katoomba, NSW 2780 Blue Mountains.
– NEW ENTRY VIA THE CARRINGTON HOTEL DRIVEWAY –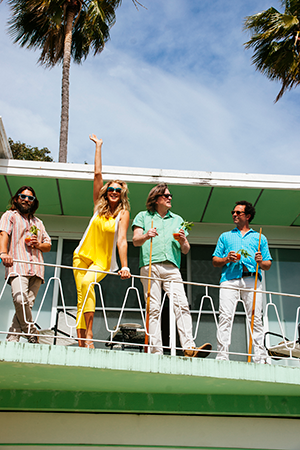 . . . . . . . . . . . . . . . . . . . . . . . . . . . . . . . . . . . . . . . . . . . .
Led by long-legged Lizzie Mack, a charismatic front woman with a penchant for groovy 1960's vintage, and featuring the equally visually spectacular legend on lead guitar, much-loved ex-Red Wiggle, Murray Cook, The Soul Movers musical tour-de-force across a hip and funky musical spectrum of 1960s and 70s Soul, Pop, and rock and roll, making them one of the most exciting live and festival acts on the touring circuit today.
Backed by a band oozing with musical talent which features a star-studded cast of musicians who count themselves among the best in Australia. At times described as a "supergroup", Lizzie Mack and Murray Cook are joined by bassists Matt Crawford and Tony Mitchell (Sherbet), Marko Simec on keys (Waiting For Guinness) and legendary session drummer Luke Herbert (Paul Kelly, Kasey Chambers, Don Walker etc). Together they deliver a unified and electrifying live performance that impresses audiences and critics alike wherever they go.
The Soul Movers have recorded in both the US and Australia to create four critically acclaimed albums – including their current for ABC Music 'Evolution' where the band retained their soulful roots while also branching out and bringing in more retro-rock, soul-funk and even disco elements. The record captures The Soul Movers incredible energy, broad influences and diverse talent. 'Evolution' was supported by four singles and video clips, including 'Circles', which saw the original Wiggles lineup reunited to lift the spirits of a nation during lockdown with a retro workout video a la Richard Simmons. The album and singles have been met with widespread critical acclaim and their YouTube and socials lit up with a response of love and admiration for the band's visual panache and exuberant flair.
They proceeded to sell out live shows across the nation, leaving audiences enthralled wherever they went and eager to join The Soul Movers family. Now they had a cohesive offering and territory that audiences responded to with equal measures of recognition, passion, and enthusiastic interaction.
"Taking in a Soul Movers live show is an essential experience for anyone seriously interested in that broad umbrella of "live music." – Bernie Howitt, RAM Magazine
"Murray Cook and Lizzie Mack have forged an alliance so powerful, so fearsomely funky, that The Soul Movers have become one of the most exciting live bands in the land…" – Glenn A. Baker – Music Historian, AM
"The Soul Movers are aptly named for their body-driven music that will have any seated crown writhing in their seats. Fronted by Lizzie Mack and Murray Cook (aka the original red Wiggle), the group combine electrifying guitar riffs with 60s soul-groove and a sprinkling of pop to form a night out that audiences will never forget. TSM's high energy bursts through to deliver a new album which is a tasty collection of surprise and delight." – Tait McGregor, The AU Review
"This is music that is all about the soul – its passion, emotional nuance, heartbreak, celebration, hurt and love. 'Bona Fide' is the sound of a talented, experienced bunch of soul-music lovers making a record where the essence of this passion and feeling is coursing through their veins. You can't really ask for anything more." – Brian Wise, Editor, Rhythms Magazine
www.soulmoversband.com
www.facebook.com/soulmoversband
www.instagram.com/soulmoversband
https://youtu.be/Odc1WH5IYO8 Evolution Music Clip
https://youtu.be/pRXb9_wFFZs Hot Sauce Music Clip
https://youtu.be/U6ZEtYHiOgQ Circles Baby – OG Wiggles Workout Remix – Music Clip
. . . . . . . . . . . . . . . . . . . . . . . . . . . . . . . . . . . . . . . . . . . . . .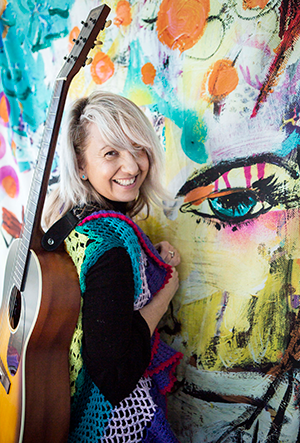 With a love of sunflowers, real people, and the freedom to express herself as a songwriter, Linda Mizzi brings light, honesty and a touch of darkness into her songs. She tells real stories through her music, with strong, lyric based songs; that are upfront, warm, quirky, charming and sometimes even confronting. Linda lets her muse wander where it may, "Of course, music is far more porous than genre-definers would have us believe, and such is the case with her music." – Michael Smith.
Based in her home town of Katoomba in the Blue Mountains, she is blessed to be surrounded by so many like-minded artists and musicians, and it is on the festival circuit and in front of a listening audience that she truly comes into her own. Linda often performs as 'The Linda Mizzi Trio', featuring fellow local musicians Glenn Skarratt on Mandolin and Alex Keller on Bass guitar. The trio have reformed again after a period of four years and are currently working on a new album. With a strong direction towards country/folk, you will still hear undertones of blues that are very common to Linda's style on previous albums. However, the combination of older songs with newer tracks, written and arranged together as a trio, will feature a more stripped back approach, with the primary focus on Linda's often thought provoking lyrics. This collaboration is strong, and one to watch.
For a taste of what is to come, you will have the chance to enjoy Linda in solo mode as she opens for The Soul Movers in her home town.
www.lindamizzi.com
www.instagram.com/linda.mizzi
. . . . . . . . . . . . . . . . . . . . . . . . . . . . . . . . . . . . . . . . . . . . . . .
Great Southern Nights is a celebration of live music that takes place right across NSW. The dynamic program features hundreds of COVID-safe performances at live music venues across Greater Sydney and regional NSW in March and April 2022. Great Southern Nights is a NSW Government initiative, delivered by Destination NSW in partnership with the Australian Recording Industry Association (ARIA) to stimulate the revival of the State's live music, entertainment and hospitality sectors, and in turn the NSW visitor economy, in response to the challenges presented by the COVID-19 pandemic. For more information, please visit greatsouthernnights.com.au
. . . . . . . . . . . . . . . . . . . . . . . . . . . . . . . . . . . . . . . . . . . . . .
VENUE: BAROQUE ROOM 15 Katoomba St (entry via the Carrington Hotel driveway, through the 'Baroque Room' arch) Katoomba, NSW 2780 Blue Mountains
*** NEW ENTRY VIA THE CARRINGTON HOTEL DRIVEWAY KATOOMBA ST ***
Come and enjoy the refurbishments of this terrific room!
*This event is an over 18 years only. No minors will be granted entry to the event.
Please also note that the Baroque Room is a room that we hire, the Carrington Hotel will be operating the bar inside the room but there is no kitchen or food available at the venue. The Old City Bank also owned by the Carrington Hotel next door has hot meals available however guests are unable to bring outside food or drinks inside the Baroque room.
. . . . . . . . . . . . . . . . . . . . . . . . . . . . . . . . . . . . . . . . . . . . .
All events will strictly follow COVID safe procedures, as outlined by NSW Health.
Please read the ATTENDANCE REQUIREMENTS before purchasing:
Fusion Boutique & The Carrington Hotel are registered COVID-SAFE businesses.
The health of our staff, performers and guests are of the highest priority. Thank you for your understanding while we navigate these current times.
• It is crucial that if you are experiencing any covid like symptoms (flu-like symptoms, fevers, sore-throats etc) that you please do not attend.
• All guests will have their temperature taken via a contact-less method on arrival.
• All guests will also have to sign in on a contact register when entering the venue. Sign-in must be done by providing accurate contact details (name and phone number or email address) and time of entry. Entry to patrons who will not provide valid contact information will be denied.
*** We will be providing contact-less check-in via QR code registration. To make this process smoother please download the Service NSW app prior to arrival: www.service.nsw.gov.au/campaign/service-nsw-mobile-app
When you arrive to the check in desk open the app and select "COVID Safe Check-in'. Once you have completed this process – show a Fusion Boutique staff member that you have signed in and then have your tickets verified.
• All bookings will have allocated seating and require group bookings.
Individual group bookings are unlikely to be able to be placed together unless requested prior to the event date.
• Please maintain physical distancing measures of 1.5m where possible.
• Hand washing and sanitising facilities will be available throughout the venue.
• Where possible, please use the COVIDsafe app.
• There will be no entry to the venue for guests prior to the stated doors open time.
. . . . . . . . . . . . . . . . . . . . . . . . . . . . . . . . . . . . . . . . . . . . . . .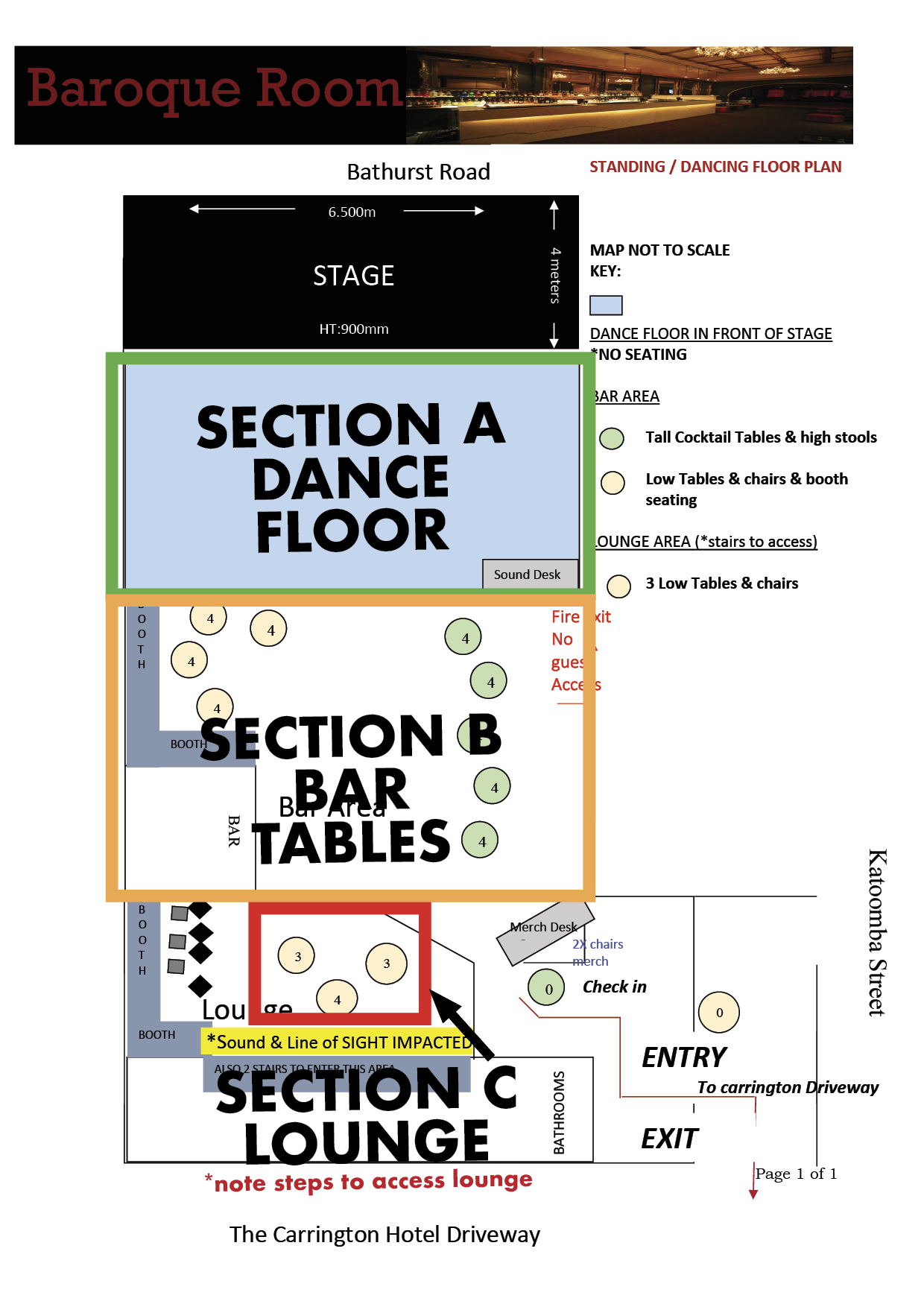 This show has been planned as a standing / dancing show.
Room configuration will be general admission standing / dancing on the dance floor and allocated seating for table bookings in Section B Bar and C Lounge. All tickets require group bookings.
Table bookings for Section B will be allocated from the front of the room to the back, based on the order that they are received.
Guests who booked tables will be emailed their seat allocations prior to the event date.
Guests who book group tables will be able to move to the dance floor however general admission standing / dancing tickets will not have seats available.
*Please note that the event will proceed according to the public health order requirements current at the time. If seated alcohol consumption or no dancing is brought in for the event date then all Section A standing / dancing tickets will be converted to seated theatre style rows instead.
Section A – General Admission Standing / Dancing, min booking of 2. No chairs available (unless it is a requirement of the PHO at the time of the event for patrons to be seated)
Section B – Bar Area Booth seating low tables (Please note that these low tables and chairs are close to the dance floor and the line of sight to the stage may be impacted if the dance floor is full) min booking of 4.
Section B – Bar Area High Tables & Stools (Please note that these are high tables and stools running along the wall of the bar area) min booking of 4.
Section C – Back Lounge Tables, limited group bookings of 3 or 4 only
(Please note that there are 2 stairs to access the lounge)
*Please refer to the floor plan for a layout reference guide.
Tickets $20 pre +bf / $25 door per person
Ticket Link: https://events.humanitix.com/fbsoulmovers
*Door sales only available if not sold out prior.
Discount show pre-bookings will close 10am on the day of the event.
. . . . . . . . . . . . . . . . . . . . . . . . . . . . . . . . . . . . . . . . . . . . . . .
Your ServiceNSW Discover Vouchers can also be redeemed for concert bookings. One voucher can be used in the payment process online through Humanitix or contact us prior to booking to discuss how a combination of vouchers can be redeemed together for bookings.
Guests can still book with confidence knowing that, while tickets are normally non-refundable, if a show needs to be cancelled for any reason then all tickets will of course be refunded. If a show needs to be rescheduled then tickets will be valid for the new dates. In the instance of guest illness tickets can be transferred on request.
RUN TIMES
Doors & Bar Open: 7pm (no entry prior)
Linda Mizzi: 8pm – 8:45pm
30mins intermission
The Soul Movers: 9:15pm – 10:15pm
CONTACT DETAILS OF EVENT ORGANISER: Charity Mirow
For more information visit: www.fusionboutique.com.au