Fusion Boutique Presents 'Metro Social' with
SON – SUSAN O'NEILL (Ireland)
+ Special Guest ANDIE
Live in Concert at the 1930's Metropole Guesthouse.
Wednesday 27th March 2019, 6pm. Doors Open 5pm.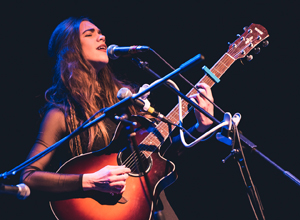 *** This show is now SOLD OUT!
For a fabulous range of other Blue Mountain events visit: www.fusionboutique.com.au
We advise booking early to avoid disappointment.  ***
All the way from Co. Clare, Ireland, the prodigiously gifted Susan O'Neill's soulful & husky-voiced performances are truly something to behold. Using guitar, harmonica, trumpet and a loop pedal, Susan delivers a timeless and powerful blend of the old & new. Her inspirational fusion of soulful Irish folk & her own acclaimed original material makes for an entertaining & enchanting musical experience.
Having been compared to both Adele and Florence and the Machine by Pure M, SON (Susan O Neill) from Ireland has, so early in her career, picked up many fans including U2's Bono.
She covered U2's Exit song for the Hot Press magazine 30-year celebration of The Joshua Tree and Bono, on hearing her version, emailed her personally 'to the dark-eyed Susan…I love the stark rendition of Exit….your fan Bono."
She has also supported Imelda May, Mundy, Alabama 3, Sharon Shannon, Fun Lovin Criminals, David Gray and Madness to name a few.
Her solo performances are literally mind-blowing. The amazing range of her gritty vocal combined with her superb guitar technique, her loop pedals and trumpet, make for a truly unforgettable musical experience.
Not content with mastering a unique choice of musical instruments, SON gained a BA in Music, majoring in recording techniques and minoring in the art of performance.
"Not only is she a powerhouse vocalist, a talented musician, she also knows how to get it down onto a track when it comes to the studio." – Hot Press
Her debut album 'Found Myself Lost' contains some incredibly well-crafted songs and her voice sometimes soulful, sometimes brash but always beautiful, is world class. Ignore her at your peril, SON is here to stay.
. . . . . . . . . . . . . . . . . . . . . . . . . . . . . . . . . . . . . . . . . . . . .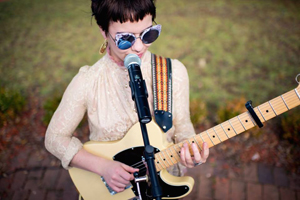 + Special Guest ANDIE

21 year old Andie has been busking and performing professionally in the upper-mountains villages of Leura and Katoomba since the age of 11 and is deeply connected to her local community and music scene, living and breathing the lifestyle of a young musician.
Electric guitar, an understanding of jazz, folk finger-picking and soaring vocals are brought together to create her unique flavour of soul.
. . . . . . . . . . . . . . . . . . . . . . . . . . . . . . . . . . . . . . . . . . . . .
VENUE:
'METRO SOCIAL' Metropole Guesthouse Lounge Upstairs (lift available) Cnr of Lurline and Gang Gang Streets, Katoomba, Blue Mountains NSW 2780.
Opposite the Katoomba train station.
If entering from the front the cocktail bar/restaurant is on the right and access to the upstairs performance space in the lounge is up the stairs or via the lift towards the back of the hotel.
Access can also be made through the rear and the lift to the lounge is in the atrium.

The Metropole is an all ages venue however minors must be accompanied by a parent or legal guardian and must remain supervised and do require a standard ticket for entry. Please also keep in mind that the performance space is a listening room.
Drinks and light meals will be available from the Metro Retro pop up bar upstairs once doors open.
Doors Open 5pm. Show Starts 6pm.
General Admission. Theatre Style Seating, cocktail lounge and some standing room.
Tickets $20 DISCOUNT pre-sale available from THE METROPOLE GUESTHOUSE (during reception hours) Cnr of Lurline and Gang Gang Streets, Katoomba, Blue Mountains NSW 2780. (Cash Only)
Or + b/f Card /Phone 02) 4782 5544 and Online $21.50 (Including booking fees):
www.stickytickets.com.au/78257
Or $25 on the Door from 5pm (Unless Sold Out)
This is an intimate seating venue and tickets are strictly limited!

CONTACT DETAILS: Charity Mirow 0409 042 869
For more information visit: www.fusionboutique.com.au