Great Southern Nights in association with Fusion Boutique Present
MARTINEZ AKUSTICA / VICTOR MARTINEZ PARADA TRIO
+ Special Guest MARTIN FOOTE
Live in Concert at the Baroque Room, Carrington Hotel
SATURDAY 9th April 2022
Doors Open 3:30pm | Show Start 4:30pm
Venue: BAROQUE ROOM 15 Katoomba St, Katoomba, NSW 2780 Blue Mountains.
– NEW ENTRY VIA THE CARRINGTON HOTEL DRIVEWAY –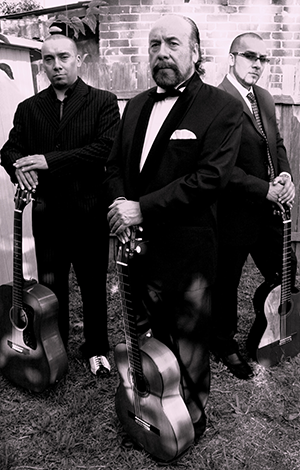 Chilean-born, Victor Martinez Parada, is recognised as one of the world's finest classical Latin-American avant-garde solo guitarists.
With his sons, Andro and Dauno Martinez, he led the family guitar trio, Martinez Akustica, who performed professionally from 1997 until 2012 throughout Australia and internationally. All three members played six string acoustic and electric guitar, bass and also used their instruments as percussion and vocal beat box. One minute they played in unison, the next in harmony, then across and against each other. It was calm, then chaotic, beautiful, then forceful. It was difficult to fully describe them until you'd heard them. Their interplay and understanding that flowed through them was inspiring, endearing and infectious. They truly captivated their audiences as they stretched each other's ability with a flourish here and an astonishing variation there. These incredible players were on the must-see list for anyone who played a guitar, anyone who aspired to playing guitar and anyone who enjoyed listening to guitar.
Each of the members now have individual careers but are thrilled to re-unite especially for WOMADelaide and after a period of 11 years we are particularly excited to be able to present them in the Blue Mountains again.
"Victor's ear is such that he's able to peel away the thump & swish of epic early eighties Britpop production to find the heart of a song not even its writers seemed to recognise. He honours the composition, rather than his own virtuosity. This humility, an abject absence of vanity, is a hallmark of his musicianship. Indeed, it's the defining characteristic. It's emblematic of Parada's truly rare & precious gift for arrangement. And it's a talent that comes to the fore again and again throughout the evening.
'You Are the Sunshine of My Life' is one of the greatest songs ever written. And, if it's possible, Victor's Fantasy on it only but enhances its status in the popular canon. In his hands, it becomes around a ten-minute opus. It's as if he's rolling out a red carpet for the tune, which progressively & unmistakably insinuates itself. The rhythmic flavour of flamenco informs the arrangement and imbues a passionate urgency. It's a virile, avant-garde take on a Wonderful song. The Chilean Hendrix does it again.' – Syke on Stage

"Martinez Akustica had an interesting approach to jazz and pop, highly energetic jazz laced with flamenco flair and modern improvisation by three great guitarists." – George Benson
"Their live show left me inspired each night of the tour. Definitely some of the most talented musicians I have ever seen." – Michael Franti – Spearhead
"The music benefits from their intensity and passion…. so does the listener!" – Jeff Hamilton (Diana Krall)
"This is probably the greatest acoustic guitar band in the country – and yet another must-see at Bluesfest." – Byron Bay Blues Festival
"The Gypsy Kings are happy. It has been incredible playing with the musicians Martinez Akustica. Our concert has been a great success in Sydney. We hope to play together next time in another place on Earth." – The Gypsy Kings
"The band has an endearing, inspiring and infectious energy and it shows in their performance" – The Sunday Telegraph
www.facebook.com/MartinezAkustica
www.facebook.com/VMP.VictorMartinezParada
www.victormartinezparada.com
www.youtube.com/user/matinezfans/videos
. . . . . . . . . . . . . . . . . . . . . . . . . . . . . . . . . . . . . . . . . . . .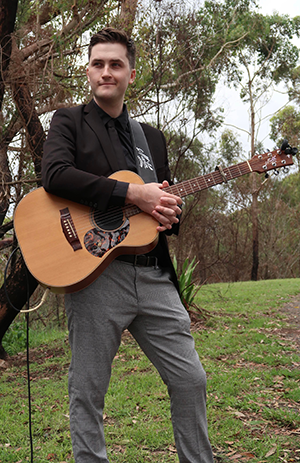 Martin Foote is a gifted guitarist from the Blue Mountains of NSW, who plays with a passion and flair that turns heads whenever he takes the stage. Growing up in a musical family, Martin began playing guitar at the age of ten, taught by his father, Nigel Foote, who gave him a strong foundation in folk-blues fingerpicking styles. Through meeting guitarists Joe Robinson and Michael Fix, Martin discovered the work of the legendary Australian guitarist, Tommy Emmanuel. Over the next few years, Martin attended Tommy's guitar workshop and two residential guitar camps, at the end of which he performed Tommy's arrangement of Classical Gas with the Master himself. Martin has performed for Blue Mountains Music Festival, Sydney Blues & Roots Festival, Sydney Royal Botanical Gardens, Tamworth Country Music Festival, Katoomba Winter Magic Festival, Horizon Festival, Hunters Hill Club, Katoomba RSL, Blue Mountains Folk, plus Australian Citizenship ceremonies for Blue Mountains City Council. After winning the Busking Competition at the 2015 Winter Magic Festival, Martin composed several instrumental pieces and used the prize (a day's recording at Songcave Studios) to record his seven-track EP, 'Moving On' which was released at the 2018 Blue Mountains Music Festival. Martin has taught guitar for Waratah School of Music (Blue Mountains Music Academy) and at Blue Mountains Guitar School since 2015. This has however moved online since the pandemic began. Martin is currently studying a bachelor of music at the Australian Institute of Music.
www.martinfoote.com
www.facebook.com/martinfooteguitar
. . . . . . . . . . . . . . . . . . . . . . . . . . . . . . . . . . . . . . . . . . . .
Great Southern Nights is a celebration of live music that takes place right across NSW. The dynamic program features hundreds of COVID-safe performances at live music venues across Greater Sydney and regional NSW in March and April 2022. Great Southern Nights is a NSW Government initiative, delivered by Destination NSW in partnership with the Australian Recording Industry Association (ARIA) to stimulate the revival of the State's live music, entertainment and hospitality sectors, and in turn the NSW visitor economy, in response to the challenges presented by the COVID-19 pandemic. For more information, please visit greatsouthernnights.com.au
. . . . . . . . . . . . . . . . . . . . . . . . . . . . . . . . . . . . . . . . . . . . . .
VENUE: BAROQUE ROOM 15 Katoomba St (entry via the Carrington Hotel driveway, through the 'Baroque Room' arch) Katoomba, NSW 2780 Blue Mountains
*** NEW ENTRY VIA THE CARRINGTON HOTEL DRIVEWAY KATOOMBA ST ***
Come and enjoy the refurbishments of this terrific room!
*This event is an over 18 years only. No minors will be granted entry to the event.
Please also note that the Baroque Room is a room that we hire, the Carrington Hotel will be operating the bar inside the room but there is no kitchen or food available at the venue. The Old City Bank also owned by the Carrington Hotel next door has hot meals available however guests are unable to bring outside food or drinks inside the Baroque room.
. . . . . . . . . . . . . . . . . . . . . . . . . . . . . . . . . . . . . . . . . . . . .
Tickets for tables must be purchased as part of a group booking.
Section A Theatre style seating will be allocated from the front of the stage to the back, based on booking types and the order that they are received.
Individual group bookings are unlikely to be able to be placed together
unless requested prior to the event date.
Guests will not be able to move seating between sections or transfer from assigned seats.
Guests will be emailed their seat allocations prior to the event date.
Section A – Theatre Style Seating
Section B – Bar Area
Section C – Back Lounge (Please note that there are 2 stairs to access the lounge)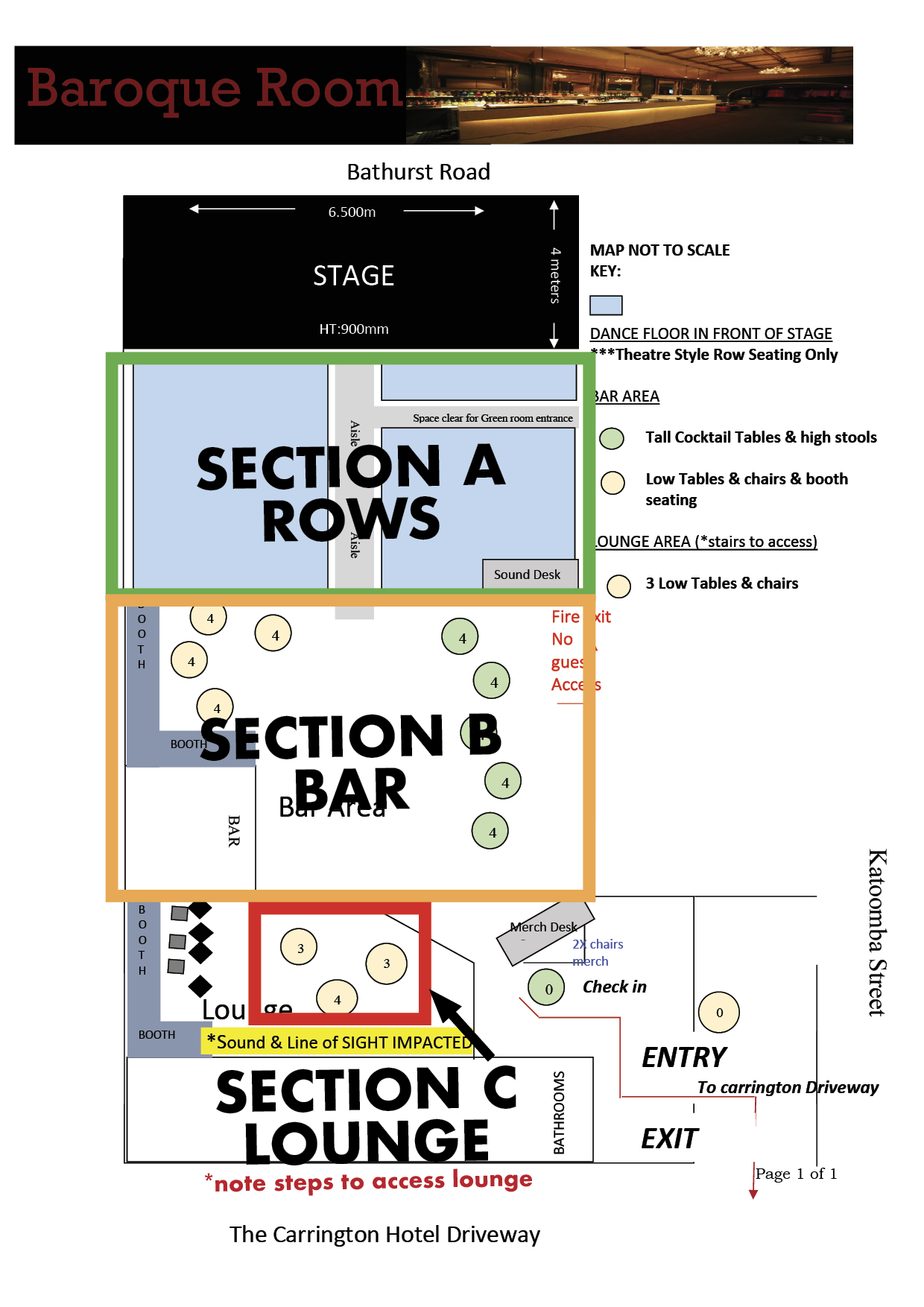 . . . . . . . . . . . . . . . . . . . . . . . . . . . . . . . . . . . . . . . . . . . . . . .
All events will strictly follow COVID safe procedures, as outlined by NSW Health.
Please read the ATTENDANCE REQUIREMENTS before purchasing:
Fusion Boutique & The Carrington Hotel are registered COVID-SAFE businesses.
The health of our staff, performers and guests are of the highest priority. Thank you for your understanding while we navigate these current times.
• It is crucial that if you are experiencing any covid like symptoms (flu-like symptoms, fevers, sore-throats etc) that you please do not attend.
• All table bookings will have allocated seating and require group bookings.
Individual group bookings are unlikely to be able to be placed together unless requested prior to the event date.
• Please maintain physical distancing measures of 1.5m where possible.
• Hand washing and sanitising facilities will be available throughout the venue.
• Where possible, please use the COVIDsafe app.
• There will be no entry to the venue for guests prior to the stated doors open time.
. . . . . . . . . . . . . . . . . . . . . . . . . . . . . . . . . . . . . . . . . . . . . . .
Room configuration will be seated and allocated and tables require group bookings.
Guests will not be able to move seating between sections or transfer from assigned seats.
Section A – Theatre Style Seating $40 pre + bf / $45 door per person
Section B – Bar Area $35 pre +bf / $40 door per person
Section C – Back Lounge $30 pre + bf / $35 door per person
(Please note that there are 2 stairs to access the lounge)
Ticket Link: https://events.humanitix.com/fbmartinez
*Door sales only available if not sold out prior.
Discount show pre-bookings will close 10am on the day of the event.
ServiceNSW Discover Vouchers can also be redeemed for concert bookings made before 31st August. One voucher can be used in the payment process online through Humanitix or contact us prior to booking to discuss how a combination of vouchers can be redeemed together for bookings.
Guests can still book with confidence knowing that, while tickets are normally non-refundable, if a show needs to be cancelled for any reason then all tickets will of course be refunded. If a show needs to be rescheduled then tickets will be valid for the new dates. In the instance of guest illness tickets can be transferred on request.
RUN TIMES
Doors & Bar Open: 3:30pm (no entry prior)
Martin Foote: 4:30pm – 5:15pm
30mins intermission
Martinez Akustica: 5:45pm – 6:45pm
CONTACT DETAILS OF EVENT ORGANISER: Charity Mirow
For more information visit: www.fusionboutique.com.au