The Laurels
+ Special Guests
Zeahorse
Imperial Broads
Broken Chip (DJ)

Fri 25th Nov 2016
HOTEL GEARIN
Venue: HOTEL GEARIN
273 Great Western Hwy, Katoomba
Blue Mountains NSW 2780.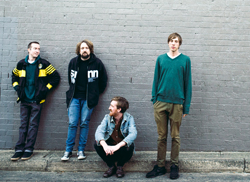 "Probably the best live band in Sydney…. What The Laurels are doing is special. There's no better way to express it" – The Music

"The Laurels are one of the most compelling bands around." – The Age *****
It's been four years since The Laurels released their critically acclaimed debut album 'Plains' and many wondered if they'd ever hear from the band again. Their social media accounts were blanketed with questions about the whereabouts of new material and band members were regularly interrogated by drunken concert attendees, culminating in numerous requests to "stop fucking around and release something!"
So what have The Laurels been doing in that time and why has it taken so long for something new to surface? The relentless touring that followed the release of 'Plains' saw the band pushing the limits of what they could achieve as a live band and yearning for a new approach in the studio. Growing particularly fond of golden age hip hop and with classic albums from GZA, Nas and Gang Starr dominating the touring van's stereo, the rawness and grittiness of hip hop production felt new and inspiring to a band that had become renowned for their lush sonic textures.
Rice Is Nice are freakin thrilled to announce Sonicology, The Laurels second record, will be out on October 14. 'Reentry' is the first single to be lifted from the album.
'Reentry' was written and recorded whilst camped out on a friends lounge room floor during the Blue Mountains bush fires of 2013. Forced to leave behind all valuables except for instruments and with the sky glowing red as they loaded up the car, The Laurels aimed to cause some explosions of their own when they reentered the city.
Written with the express intention of being the first song on the album, it functions similar to how a hype man in a rap crew would (something The Laurels lack as they are not a rap group and usually quite modest). Pumping up the bands own tyres, declaring their mission statement, calling out world leaders with the wrong priorities whilst referencing cool things such as monks, enlightenment and the Philadelphia Experiment for extra street cred. 'Reentry' also expresses the bands dissatisfaction at always being lumped in with one genre of music.
Aiming to break free of the musical tags usually levelled at them, the band recruited Drew Houston of Sydney sewer jazz collective Wild Cat Falling on saxophone to wail over the band's signature twin guitar attack bringing a whole new dimension to their sound. Line up changes saw Kate Wilson depart and Jasper Fenton join and SPOD got behind the desk and mixed the record. Distorted synthesizers puncture the mix while heavenly church bells ring out over the building cacophony.
Contrary to popular belief, The Laurels have not spent the past four years sitting in their lounge room punching cones. They've overcome adversity (and hundreds of annoying questions) to craft an eclectic collection of music which they are thrilled to share with you.
It's a band loudly broadcasting their return across the airwaves – tune into their frequency!
www.facebook.com/theelaurels
http://thelaurels.bandcamp.com/
. . . . . . . . . . . . . . . . . . . . . . . . . . . . . . . . . . . . . . . . . . . . .
Zeahorse are a band based in Sydney, Australia. They originally formed in Lismore, NSW.
The Music say's of Zehorse's release 'Pools' "On Pools, the Sydney band demonstrate an evolution into a much tighter unit which maintains the baritone guitar noise fundamental to the Zeahorse sound; it wouldn't be them without the super down-tempo of tracks like opener Career, lead single Tugboat (a personal favourite), the aptly titled Familiar Faeces and a banjo hoedown in Junktown Train. It's music that is clearly made for their own pleasure – and fuck the rest if they don't like it." – Adam Wilding
Morgan Anthony – Guitar/Vox,
Max Foskett – Baritone guitar
Ben Howell – Bass
Julien Crendal – Drums
www.facebook.com/Zeahorse
. . . . . . . . . . . . . . . . . . . . . . . . . . . . . . . . . . . . . . . . . . . . .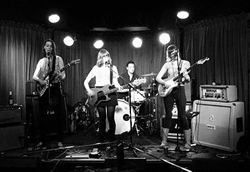 Imperial Broads make garage music that's big on three-part harmonies and melodies you can hum on your way home.
Consisting of Pip Smith (guitar/vox), Lauren Crew (bass/vox), Eve Lande (guitar/vox) and Nick Kennedy (drums). The band started as three girls in a garage, in Marrickville, in winter, freezing their tits off, with ambitious ideas of making harmony packed punk music and learning their instruments along the way. Fairly quickly they realised they weren't exactly punk but there was an interesting sound developing and they needed a drummer to make it less Marine Girls and more Saints. Enter: Nick Kennedy on drums (phew), ready to go nuts and have a lot of fun doing it. Drunk people at shows have described the band as: "blasting", "mad", "doo-wop-punk", "garage", "like something off the Aussie 80s Ugly Things comp" and (their most coveted) "CBGBs 70s era". With a rhythm section aiming for New York punk, three lead vocals layered with harmonies and guitar influences equally Roland S Howard and The Shadows, we are hell bent on making our own brand of interesting noise.
www.facebook.com/imperialbroads
. . . . . . . . . . . . . . . . . . . . . . . . . . . . . . . . . . . . . . . . . . . . .
With a contempt for conventionality and a love for experimentation, Broken Chip creates music that is electronic yet organic, machine yet human. Traditional instruments and homemade software are used for this expedition into the sonic wilderness; this Australian artist conducts an orchestra of fat wet boots crunching through snow, of dark leaky basements, of wind whispering through winter wastelands. It's a lesson in evoking mood.
www.facebook.com/brokenchip
. . . . . . . . . . . . . . . . . . . . . . . . . . . . . . . . . . . . . . . . . . . . .
Venue: HOTEL GEARIN
273 Great Western Hwy, Katoomba
Blue Mountains NSW 2780.
*Please note that Hotel Gearin shows are over 18's only.
Doors Open 8:30pm.
Show Starts 8:30pm with a DJ set from Blue Mountains local Broken Chip.
General Admission. Room configuration is a mix of cabaret seating and standing/dancing.
Tickets pre-sale $15 available from KATOOMBA MUSIC, 140 Katoomba St, Katoomba, NSW 2780 (Tues-Sat. Cash Only) or the Hotel Gearin front Bar during open hours.
Or online $16.50 (Including booking fees): www.stickytickets.com.au/43558
Or $15 on the Door from 8:30pm (Unless Sold Out)