Fusion Boutique Presents 'Metro Social' with
THE MAES (with MONIQUE CLARE)
+ Special Guest MAIZY COOMBES
Live in Concert at the 1930's Metropole Guesthouse.
Friday 5th July 2019, 6pm. Doors Open 5pm.
*** This show is now SOLD OUT!
However Fusion Boutique is very pleased to announce that due to popular demand a 2nd and final show is now being held at Gallery ONE88's fabulous little exclusive speak easy venue 'Pigeon Lane'.
Direct ticket link: www.stickytickets.com.au/89397
For a fabulous range of other Blue Mountain events visit: www.fusionboutique.com.au
We advise booking early to avoid disappointment! ***
Multi-award-winning Melbourne contemporary folk outfit, The Maes (formerly The Mae Trio) is the brainchild of sisters Maggie (banjo, guitar and vocals) and Elsie Rigby (fiddle, mandolin and vocals). Born into the arms of the Folk music community, both sisters were side of stage at their first folk festival when they were four weeks old and have been absorbing and exploring folk music since that time.
The Maes' latest, self-titled record set for release in April 2019 is a return to the sisters' folk music roots. Gentle, intimate and conversational, the album is an unadorned showcase of Maggie and Elsie's superb songwriting as well as honest, relaxed and stunning vocal and instrumental performances.
The album was born on a two-month tour of Europe and North America in 2018 shortly after the band changed its name from The Mae Trio to The Maes after the departure of founding member Anita Hillman. The sisters started the tour with a recording session in Canada, intending to make a four track EP. Fired up by the changes in the band, inspired and bursting with new music they kept looking for new recording opportunities as the tour progressed. By the end of the tour they had two tracks from Nova Scotia, Canada, two songs from the Isle of Mull in Scotland, two songs from different studios in Ireland and four songs recorded in their hometown of Melbourne.
The album features production from top roots music producers from around the world including, Daniel Ledwell (Oh Pep!, Jenn Grant, Good Lovelies), John Fitzgerald (Christy Moore, Crooked Still, Lisa Hannigan) and Brendon Love (Teskey Brothers). The album also features cello and harmony vocals by award-winning Brisbane musician, Monique Clare who regularly tours with The Maes and will be performing at this show.
Their latest release follows on from their sophomore album, Take Care Take Cover, which was recorded in Nashville by Grammy nominated producer/engineer Erick Jaskowiak (The Waifs, Crooked Still, Darrell Scott) and featuring some of that music town's finest roots musicians. The record won them the Age, Music Victoria Folk/Roots Album of the Year in 2017 as well as rave reviews in Australia and overseas.
Since 2014, The Maes have been full time touring in Australia and overseas, winning over audiences with their striking songwriting, intricate instrumental arrangements and stunning vocal harmonies. The band's touring history includes a list of some of the worlds largest and most prestigious music festivals such as, the Woodford and Port Fairy Folk Festivals in Australia, The Edmonton and Vancouver Folk Festivals in Canada, Cambridge Folk and Celtic Connections festivals in the UK and the Telluride Bluegrass Festival in the USA.
"simply superb sophomore album." – The Australian *****
"…underscores the ever growing potential these girls have to capture a truly international stage.' – Folk Radio UK
"The Mae Trio songs are powerful, the vocal harmonies soar, and their own instrumental prowess is impressive" – Penguin Eggs
"quite simply breathtaking" – Rhythms Magazine
"Located at a crossroads where Australian, English and American folk traditions meet, The Mae Trio are in the midst of creating something unique and very much their own" – Songlines

. . . . . . . . . . . . . . . . . . . . . . . . . . . . . . . . . . . . . . . . . . . . .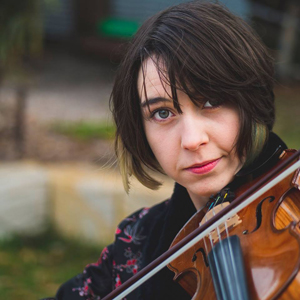 + Special Guest Maizy Coombes
Blue Mountain's based Maizy Coombes, is an endearing Violinist/Songwriter with a contemporary folk sound beneath wholesome lyricism.  Her approach to life is equal parts adorable, resourceful and sneaky, all of which is reflected brightly in her music. Using a loop pedal to support herself, this unique sound scape has the ability to bring out tears as you apply make-up or brush your teeth, yet still leave you feeling contemplative and joyous.
We first encountered Maizy's gorgeous fiddle playing in "Lime and Steel".
Don't miss this opportunity to see her subtle and solo.
www.facebook.com/maizyj
VIDEO "Train Tracks" : https://youtu.be/3t0JCV-FxaE
. . . . . . . . . . . . . . . . . . . . . . . . . . . . . . . . . . . . . . . . . . . . .
VENUE:
'METRO SOCIAL' Metropole Guesthouse Lounge Upstairs (lift available)
Cnr of Lurline and Gang Gang Streets, Katoomba, Blue Mountains NSW 2780.
Opposite the Katoomba train station.
The upstairs performance space in the lounge is on the first floor. Access can be made up the stairs if entering from the front or via the lift at the back of the hotel through the atrium.

The Metropole is an all ages venue however minors must be accompanied by a parent or legal guardian and must remain supervised and do require a standard ticket for entry. Please also keep in mind that the performance space is a listening room.
Drinks and light meals will be available from the Metro Retro pop up bar upstairs once doors open.
The downstairs restaurant bar will be open 1 hour prior to the upstairs performance space for pre-show drinks and early food orders.
Doors Open 5pm. Show Starts 6pm.
General Admission. Theatre Style Seating, cocktail lounge and some standing room.
Tickets $20 DISCOUNT pre-sale available from THE METROPOLE GUESTHOUSE (during reception hours) Cnr of Lurline and Gang Gang Streets, Katoomba, Blue Mountains NSW 2780. (Cash Only)
Or + b/f Card /Phone 02) 4782 5544 and Online $21.50 (Including booking fees):
www.stickytickets.com.au/85372
Or $25 on the Door from 5pm (Unless Sold Out)
This is an intimate capacity venue and tickets are strictly limited!

CONTACT DETAILS: Charity Mirow 0409 042 869
For more information visit: www.fusionboutique.com.au