Fusion Boutique Presents 'Metro Social' with
HAT FITZ & CARA
+ Special Guest Vanessa Caspersz
Live in Concert at the 1930's Metropole Guesthouse.
Saturday 16th February 2019, 6:00pm. Doors Open 5:00pm.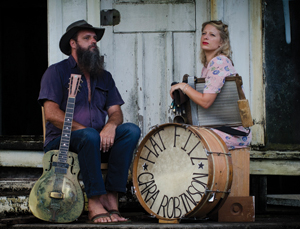 Hat Fitz and Cara can in no way be mistaken for a dainty duo. They are a striking pair who seldom fail to deliver an electric live performance on stage.
They are festival favourites throughout Canada, Australia, Europe, and the UK and it has been said they pack more energy into one song than most have in an entire career.
Their original compositions are seeped in Folk and Blues with an authentic Gospel sound. With just voices, guitar and vintage drums Hat Fitz & Cara embellish impeccable rootsy originals with old timey flavourings and soulful vocals reminiscent of a time once forgotten.
Accolades include: Blues album of the year 2013 in the Australian Chain awards and the UK Spiral Earth. 2015 Best Vocal of Year at the Chain Awards. Semi Finalists in USA Memphis International Blues Challenge 2015.
Launching their fourth album, 'After The Rain' has a unique vintage sound that these two have created themselves, yet it is packed with a modern punch that cannot be denied once seen live.
The album was recorded by Govinda Doyle, who was behind the No. 1 Big Jet Plane by Angus & Julia Stone, and mastered by Graham Durham at Exchange Studios who has worked with the likes of Grace Jones, Sea Sick Steve, Groove Armada and many more.
"This album shows this couple at the peak of their creative powers – soaring soul vocals, visceral blues guitar, unexpected quiet, and sudden changes in feel and tempo. A masterful blend of roar and nuance". (ABC RN) **** Rhythms Mag (Aus) **** Get Ready To Rock (UK)
. . . . . . . . . . . . . . . . . . . . . . . . . . . . . . . . . . . . . . . . . . . . . . .
+ Special Guest Vanessa Caspersz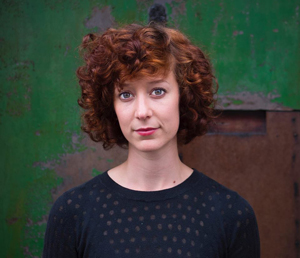 Vanessa is a musician with a voice and nimble fingers.
She likes to sing jazz, folk and bluegrass.
www.facebook.com/vanessacaspersz
. . . . . . . . . . . . . . . . . . . . . . . . . . . . . . . . . . . . . . . . . . . . .
VENUE:
'METRO SOCIAL' Metropole Guesthouse Lounge Upstairs (lift available) Cnr of Lurline and Gang Gang Streets, Katoomba, Blue Mountains NSW 2780.
Opposite the Katoomba train station.
If entering from the front the cocktail bar/restaurant is on the right and access to the upstairs performance space in the lounge is up the stairs or via the lift towards the back of the hotel.
Access can also be made through the rear and the lift to the lounge is in the atrium.

The Metropole is an all ages venue however minors must be accompanied by a parent or legal guardian and must remain supervised and do require a standard ticket for entry. Please also keep in mind that the performance space is a listening room.
Drinks and light meals will be available from the Metro Retro pop up bar upstairs once doors open.
Doors Open 5:00pm. Show Starts 6:00pm.
General Admission. Theatre Style Seating, cocktail lounge and some standing room.
Tickets $25 DISCOUNT pre-sale available from THE METROPOLE GUESTHOUSE (during reception hours) Cnr of Lurline and Gang Gang Streets, Katoomba, Blue Mountains NSW 2780. (Cash Only)
Or + b/f Card /Phone 02) 4782 5544 and Online $27.50 (Including booking fees):
www.stickytickets.com.au/78252
Or $30 on the Door from 5:00pm (Unless Sold Out)
This is an intimate seating venue and tickets are strictly limited!

CONTACT DETAILS: Charity Mirow 0409 042 869
For more information visit: www.fusionboutique.com.au