ALTURAS in concert at the iconic Paragon.
(
CONCERT + CHAMPAGNE COCKTAIL + 3 COURSE GOURMET DINNER + TEA/COFFEE, BISCOTTI & CHOCOLATES!

)

Fri 13th Nov 2015
Strictly limited tickets!

Alturas are a quintet specialising in the performance of contemporary tango music with distinct jazz influences.
Inspired by the music of Argentina, 'Alturas' combines influences from classical, latin and tango to create a unique blend of haunting melodies with jazz-inspired solos.

'Alturas' have been performing as a group since 2009. The group started as a duo with Gaye Thomas (flute/bandoneon) and Jane Andino (piano). They have over the years grown to become a quintet, performing throughout Eastern Australia. Members also include Inge Courtney-Haentjes (violin/ viola), Greg Gibson (sax/clarinet), and Stan Valacos (Bass). The group have performed twice for the National Argentine Day celebrations in Canberra, at the request of the Argentinean Embassy.

With a constantly expanding repertoire, Alturas push boundaries with unique re-workings of traditional tangos, along with stunning arrangements of Piazzolla, Ziegler, Egozcue and contemporary composers including several tango-inspired original pieces.

"An absolute pleasure to play Alturas. Congratulations on a beautiful sounding album." – Robbie Buck, The Inside Sleeve, Radio National

"I get a lot of CDs and my ears perked up when I heard yours." – Lucky Oceans, The Daily Planet, Radio National.

Following on from their debut CD, 'Café con Tango', Alturas are currently recording their second CD 'sin palabras' which moves further into the genre of jazz and includes works from Venezuela and Brazil as well as many Argentinean classics.
They will be embarking on an album launch tour from May 2015.

Web: www.alturastango.com

Arrive Shortly After Doors Open at 6:30pm for a Champagne Cocktail followed by a gourmet Entrée and Main course.
Show / event begins at 8pm.
Dessert served during intermission.
Concludes with tea/coffee, Biscotti and chocolates!
General Admission. Room configuration for the performance in the Banquet Hall is theatre style.

Paragon's Chef David Povelsen spent his first 4 years working at Solitary which saw the restaurant maintain it's coveted position as a 'one hatter' in the Good Food Guide. In 2007 David realised a chef's dream when Solitary attained 2 hats and was one of only 2 two-hatted restaurants in the state.
We are delighted to be able to include David and his talented culinary skills in these unique experience events at the Historic Paragon Café.

The seasonal special event MENU will be an alternate drop, unless guests advise the cafe of preferences prior to the evening of the event. Please note that vegetarian options are also available by prior order.

Special Event 3 Course Gourmet SPRING MENU below: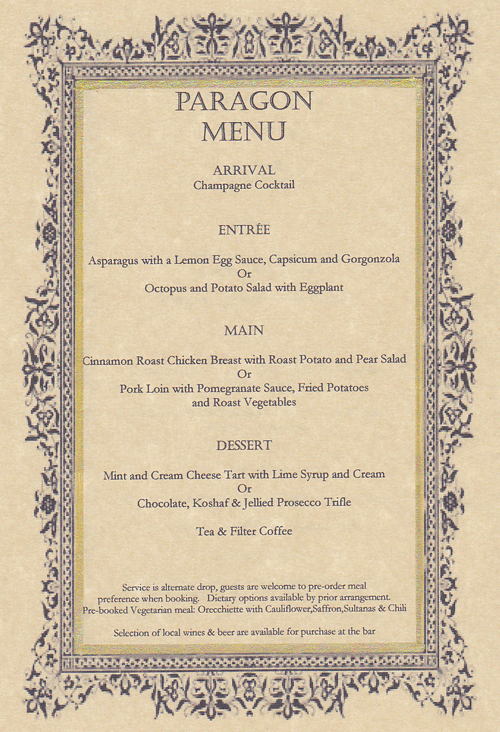 Established in 1916, The Paragon is Australia's oldest running and most original café and certainly one of the most opulent ever built in this country. Situated in the heart of Katoomba the Paragon is an iconic landmark that is an essential stop on any visit to the Blue Mountains. The three rooms that comprise the Paragon: Café, Formal Dining Room and Cocktail Lounge are some the finest and most richly detailed Art Deco interiors anywhere in the world.
VENUE: THE PARAGON CAFE
65 Katoomba St, Katoomba, Blue Mountains NSW 2780.
CONTACT DETAILS: Charity Mirow 0409 042 869
For more information visit: www.fusionboutique.com.au

Tickets $85 pre-sale available physically from:
PARAGON CAFE, 65 Katoomba St, Katoomba, NSW 2780
+$2.90 booking fee card/phone 02) 4782 2928 (10am-4pm daily)

Or online $87.90 (Including booking fees):
www.trybooking.com/HBQO
This is an intimate seating and tickets are strictly limited!