FRANK YAMMA in concert at the iconic Paragon.

CONCERT + 3 COURSE GOURMET DINNER + A CHAMPAGNE COCKTAIL + TEA/COFFEE, BISCOTTI & CHOCOLATES!
Fri 20th November 2015
Strictly limited tickets!
Frank Yamma is the voice of Australia's Central Desert striking a chord in hearts all over the world.
He is regarded as one of Australia's most significant Indigenous songwriters with an ability to cross cultural and musical boundaries.

Frank's rich and deeply evocative voice, mighty songs and exceptional guitar skills, combined with his honest tales of alcohol abuse, cultural degradation and stories of his country, are spine tingling.
When he sings, you listen and travel with him. An initiated Pitjantjatjara man, Frank sings in his native language and English. A love song sung in Pitjantjatjara will make your heart sing in whatever language you speak.
His compelling album 'Uncle' (2014) shows the continuity of a musician that is hitting his peak with grace and conviction and is a follow up album to the critically acclaimed 'Countryman' (2010). 'Countryman' re-launched Frank's career following a ten-year hiatus, gaining international attention, sparking extensive national and international touring.
Frank's touring highlights include three tours to Europe since 2011, a 2014 summer tour setting hearts on fire across Canada at Calgary, Vancouver and Winnipeg folk festivals, where he shared the stage with Buffy Saint Marie and The Mekons, as well as performing a coveted spot opening for Joan Baez. Frank has performed at various Australian festivals including the 2015 Blue Mountains Music Festival where he performed with fellow musician David Bridie.
A new career defining opportunity for Frank arrived in the form of a coveted invite to perform at the foremost world music conference and trade show WOMEX '14, held in Santiago de Compostela, Spain. A spot on the WOMEX official selection showcase has not come to an Australian music act for the previous five years and it was both an honour and an acknowledgement to Frank's unique story and music. His performance received a standing ovation from the notoriously tough crowd.
Come and see why Frank Yamma is the man everybody's talking about in the global world music scene, performing songs from both of his acclaimed albums.
"The voice grabs you first, a soulful shout of pain and yearning to connect and remember. But it's the voice, relating hard tales with honesty and emotion that makes this a raw, stripped-back classic." – The Independent UK
"Yamma's rich, powerful voice resonates and is as spiritually charged as any of the songs on Geoffrey Gurrumul Yunupingu's solo CD or Archie Roach's albums." – Tony Hillier, The Australian
"A POWERFUL cry from the heart of indigenous Australia, an album that deserves consideration alongside the work of greats." **** – The Courier Mail
"the songs… resonate with grace and power, whilst Yamma's sense of rhythm and timing in his guitar playing is tinged with the ghosts of old time Delta bluesmen like Lead Belly and Lightnin' Hopkins…" – Buzz Magazine UK
"… one of Australia's most sought after indigenous artists. Yamma's heartfelt set of husky, beautiful songs hit the AWME crowd like a sucker punch…" – Songlines /BBC3 (5 Star Review)
"Frank Yamma … received a standing ovation from a packed house" – Rhythms Magazine
www.frankyamma.com
http://www.youtube.com/watch?v=cyqyezX08Bw
She Cried http://www.youtube.com/watch?v=DQFPwt9Lu1I
Arrive Shortly After Doors Open at 6:30pm for a Champagne Cocktail followed by a gourmet Entrée and Main course.
Show / event begins at 8pm.
Dessert served during intermission.
Concludes with tea/coffee, Biscotti and chocolates!
General Admission. Room configuration for the performance in the Banquet Hall is theatre style.
Paragon's Chef David Povelsen spent his first 4 years working at Solitary which saw the restaurant maintain it's coveted position as a 'one hatter' in the Good Food Guide. In 2007 David realised a chef's dream when Solitary attained 2 hats and was one of only 2 two-hatted restaurants in the state.
We are delighted to be able to include David and his talented culinary skills in these unique experience events at the Historic Paragon Café.
The seasonal special event MENU will be an alternate drop, unless guests advise of preferences prior to the evening of the event. Please note that vegetarian options are also available by prior order.
Special Event 3 Course Gourmet SPRING MENU below: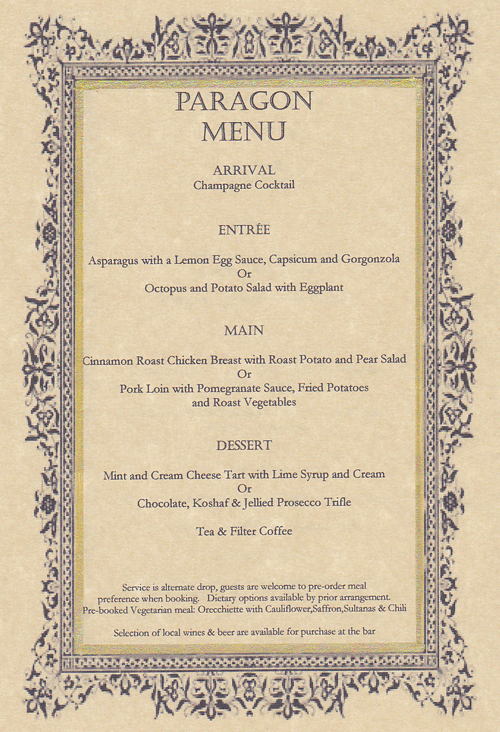 Established in 1916, The Paragon is Australia's oldest running and most original café and certainly one of the most opulent ever built in this country. Situated in the heart of Katoomba the Paragon is an iconic landmark that is an essential stop on any visit to the Blue Mountains. The three rooms that comprise the Paragon: Café, Formal Dining Room and Cocktail Lounge are some the finest and most richly detailed Art Deco interiors anywhere in the world.
VENUE: THE PARAGON CAFE
65 Katoomba St, Katoomba, Blue Mountains NSW 2780.
CONTACT DETAILS: Charity Mirow 0409 042 869
For more information visit: www.fusionboutique.com.au

Tickets $85 pre-sale available from PARAGON CAFE, 65 Katoomba St, Katoomba, NSW 2780
+$2.90 booking fee card/phone 02) 4782 2928 (10am-4pm daily)

Or online $87.90 (Including booking fees):
www.trybooking.com/ICJL
PRE-BOOKING ESSENTIAL.
This is an intimate seating and tickets are strictly limited!