Nomadic Fish & Fusion Boutique Present 'Metro Social' with
JOE FILISKO & ERIC NODEN (Chicago, USA)
live in Concert at the 1930's Metropole Guesthouse.
Wednesday 10th January 2018, 6:30pm. Doors Open 5:30pm.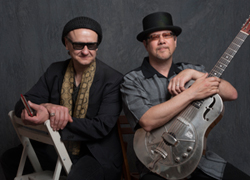 The blues and roots music duo Joe Filisko and Eric Noden make an unforgettable impression. Their jaw-dropping virtuosity enables them to create more layers of sound and feeling than most full bands can summon, and both are high-energy, ultra-rhythmic performers. The collective result, in both their live shows and their recordings are charged, dramatic performances that are simultaneously powerful and sophisticatedly subtle.
Joe Filisko is a master of all the classic blues harmonica styles. As Dennis Gruenling of Blues Review says, "Joe Filisko could be the best prewar blues harmonica stylist in the world today." Kim Wilson of The Fabulous Thunderbirds agrees: "Joe is one of the rare talents on the instrument of the harmonica. He is the guy that does what most players can't even think about doing." In addition, Jerry Portnoy who has played harmonica with Muddy Waters and Eric Clapton says, "Joe plays to the strengths and unique capabilities of the instrument and employs the full range of tonal colors, trills, flutters, chord rhythms, and other special effects that make his playing so expressive – all in service of the music. My admiration for his skill and musicianship is boundless." Filisko is not only an accomplished performer, but a skilled harmonica craftsman as well.
Eric Noden is a master bluesman in his own right. Deeply rooted in the music of 20's & 30's blues pioneers, Eric Noden's percussive guitar work, timeless song writing and well-traveled blues vocals have earned the respect of audiences, critics, and musicians worldwide. The Illinois Entertainer described Eric "As a spiritual heir to Chicago blues guitarists of the '20s and '30s like Tampa Red and Big Bill Broonzy. This multi-talented acoustic artist fills an important niche in the city's mostly plugged-in blues scene." Similarly, Eric's mastery was recognised in Cadence: "Intent on mastering older styles while transporting them and us into a new century where the past is not forgotten" The Milwaukee Journal Sentinal adds, "The Chicago-based bluesman makes a National Resonator guitar absolutely wail." Eric Noden sings, shouts and stomps while conjuring old spirits from the strings of his acoustic guitar. Varying his approach from song to song, Noden draws from a deep well of American music that fuels his high energy performances. His right hand thumb often lays down a driving bass figure that weaves around intricate melodic parts played with his fingers. This style, favoured by early bluesmen like Charley Patton, Reverend Gary Davis, and Blind Blake, is one that only a few contemporary bluesmen have mastered.
"Two marvellous musicians who have captured not only the sounds but the emotional spirit of some of the richest bloodlines of American music." — Kim Field, author of Harmonicas, Harps, and Heavy Breathers
"Joe Filisko and Eric Noden make a thoroughly convincing case that this music is the real deal and their spirited performances make it sound both fresh and contemporary." – Dirty Linen
"Eric and Joe are possessed by the spirits of Howlin Wolf, Sonny Terry, Robert Johnson, Johnny Woods, Sonny Boy Williamson, Gwen Foster and transported listeners back to the 1920's Delta.. We love Eric and Joe. Please send them back.
 — Mickey Raphael, harmonica player for Willie Nelson
. . . . . . . . . . . . . . . . . . . . . . . . . . . . . . . . . . . . . . . . . . . . .
VENUE: 'METRO SOCIAL' Metropole Guesthouse Lounge Upstairs (lift available) Cnr of Lurline and Gang Gang Streets, Katoomba, Blue Mountains NSW 2780.
Opposite the Katoomba train station.
There is limited parking available at the rear of the property. Access can be made through the rear and the lift to the lounge is in the atrium.
If entering from the front the cocktail bar/restaurant is on the right and access to the upstairs performance space in the lounge is up the stairs or via the lift towards the back of the hotel.
The Metropole is a family friendly venue!
*Minors must be accompanied by a parent or guardian and supervised.
Children do require a ticket for entry.
There is also a retro cocktail bar downstairs and drinks and light meals will be available from the Metro Retro pop up bar upstairs once doors open.
Doors Open 5:30pm. Show Starts 6:30pm.
General Admission. Theatre Style Seating, cocktail lounge and some standing room.
Tickets $20 DISCOUNT pre-sale available from THE METROPOLE GUESTHOUSE (during reception hours) Cnr of Lurline and Gang Gang Streets, Katoomba, Blue Mountains NSW 2780. (Cash Only)
Or + b/f Card /Phone 02) 4782 5544 and Online $21.50 (Including booking fees): www.stickytickets.com.au/59452
Or $25 on the Door from 5:30pm (Unless Sold Out)
This is an intimate seating venue and tickets are strictly limited!

CONTACT DETAILS: Charity Mirow 0409 042 869
For more information visit: www.fusionboutique.com.au