Nomadic Fish & Fusion Boutique Present 'Metro Social' with
PHILLIP HENRY & HANNAH MARTIN "EDGELARKS" (UK)
live in Concert at the 1930's Metropole Guesthouse.
Wednesday 17th January 2018, 6:30pm. Doors Open 5:30pm.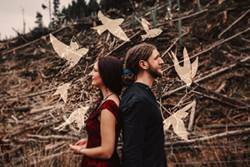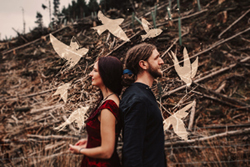 Edgelarks fly in on the tailwind of BBC award winning duo Phillip Henry and Hannah Martin. The new band name comes with a new project, taking the roots of their previous work – British traditional musics, Indian classical slide guitar, stomping roots beatbox harmonica party; adds a strong stem of original writing; and runs wilder with each gig.
The new album, also called Edgelarks, concerns the liminal: borders, crossroads, travellers, refugees, twilight, dawn. In large part written during their travels in Australia in 2016, the album takes inspiration from new horizons, new stories, spacious landscapes. A key song, Signposts, was directly written as a celebration of their time in Tasmania; a travellers anthem imbued with a touch of homesickness, but alight with the excitement of adventure, and the special connections music can make with others, even when you are a world away from home.
Edgelarks takes the idea that thresholds, despite often being places of marginalisation, are also places of change – and therefore places of hope. That in the end, we have far more in common than things that divide us, because we are all liminal – we are all just passing through.

www.philliphenryandhannahmartin.co.uk
www.facebook.com/philliphenryandhannahmartin
. . . . . . . . . . . . . . . . . . . . . . . . . . . . . . . . . . . . . . . . . . . . .
VENUE: 'METRO SOCIAL' Metropole Guesthouse Lounge Upstairs (lift available) Cnr of Lurline and Gang Gang Streets, Katoomba, Blue Mountains NSW 2780.
Opposite the Katoomba train station.
There is limited parking available at the rear of the property. Access can be made through the rear and the lift to the lounge is in the atrium.
If entering from the front the cocktail bar/restaurant is on the right and access to the upstairs performance space in the lounge is up the stairs or via the lift towards the back of the hotel.
The Metropole is a family friendly venue!
*Minors must be accompanied by a parent or guardian and supervised.
Children do require a ticket for entry.
There is also a retro cocktail bar downstairs and drinks and light meals will be available from the Metro Retro pop up bar upstairs once doors open.
Doors Open 5:30pm. Show Starts 6:30pm.
General Admission. Theatre Style Seating, cocktail lounge and some standing room.
Tickets $20 DISCOUNT pre-sale available from THE METROPOLE GUESTHOUSE (during reception hours) Cnr of Lurline and Gang Gang Streets, Katoomba, Blue Mountains NSW 2780. (Cash Only)
Or + b/f Card /Phone 02) 4782 5544 and Online $21.50 (Including booking fees): www.stickytickets.com.au/58682
Or $25 on the Door from 5:30pm (Unless Sold Out)
This is an intimate seating venue and tickets are strictly limited!

CONTACT DETAILS: Charity Mirow 0409 042 869
For more information visit: www.fusionboutique.com.au