*** This show is now SOLD OUT!
For a fabulous range of other Blue Mountains events (including the next 'Palais Performances' on 19th Feb with Dave Graney & Clare Moore (VIC) please visit: www.fusionboutique.com.au
We advise booking early to avoid disappointment! ***
Fusion Boutique Presents 'Palais Performances'
Concerts for Listening Audiences with
KING CURLY 'Songs' Album Launch
Live in Concert at the Palais Royale Grand Ballroom
Saturday 5th February 2022
Doors Open Ballroom 6pm | Show Start 7pm
Venue: PALAIS ROYALE 230 Katoomba St, Katoomba, NSW 2780, Blue Mountains

A marvellous listening experience created by Fusion Boutique in the gorgeous Palais Royale Ballroom.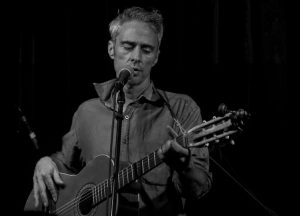 . . . . . . . . . . . . . . . . . . . . . . . . . . . . . . . . . . . . . . . . . . . .
"Tiny Tim meets the gritty story telling of Lou Reed. Songs of avenging zombies, ukulele bumblebees, possessed pianos and a certain air of quiet, small town romance, against an impossibly beautiful backdrop of chook-shed instrumentation". – Michael Dwyer, art and music writer
Hailing from the Blue Mountains NSW, King Curly is the invention of local singer/songwriter Steve Appel – a long time enigma of original Australian music.
After many absences from the stage, building alternative-design mud houses, King Curly re-emerges to showcase new songs.
Appel is a true creative. His songs and his buildings are beautiful and relevant to the times.
King Curly has toured throughout the world – by invitation with acts as diverse as K.D Lang, Paul Kelly and The Cat Empire.
The band also features Steve Grieve on guitars and Johnny Graffham on pedal steel.
Come and join us for the Blue Mountains launch of 'Songs' in this beautiful setting. Recorded largely live as a trio, 'Songs' is a new collection released song by song with accompanying home-made lockdown video clips.
COVID capacity limits are in place and we advise booking quickly to avoid disappointment!
www.kingcurly.com
www.facebook.com/kingcurlyband
. . . . . . . . . . . . . . . . . . . . . . . . . . . . . . . . . . . . . . . . . . . .
VENUE: PALAIS ROYALE GRAND BALLROOM 230 Katoomba St, Katoomba, NSW 2780 Blue Mountains
The Palais Royale is an all ages venue however minors must be accompanied by a parent or legal guardian and must remain supervised and do require a standard ticket for entry. Please also keep in mind that the performance space is a listening room.
Guests can enjoy a range of beverages (beer, wine, cider, spirits, soft drinks and hot drinks) from the Palais Royal bar on the night, as well as pre-order a cheese plate to be available for pick up on the evening.
Cheese plates $15 each, to pre-order visit:
https://events.humanitix.com/palaischeeseplate
Guests can also pre-purchase a bottle of wine for collection too.
Please find below the approximate run times for the evening and also the light meal menu options.
5PM Outside Palais Royale Lobby Bar open for food & beverage orders
6PM Doors Open to the Grand Ballroom for guests (inside Pop Up Bar open for food & beverage orders) *Please note no entry to the ballroom prior to 6PM.
Set 1 – 7-745PM
30min intermission
Food orders close 8:15PM
Set 2 – 8:15-9PM
9PM last drinks at Ballroom Pop Up Bar
Outside Lobby Bar open for further beverage orders
MENU for "Palais Performances' 5/02/22
Available to order from 5PM – 8:15PM only
• Beef Sliders with Coleslaw
• Chicken Lollipops with Ranch Sauce
• Potato and Green Pea Fritters with Raita Sauce (V)
• Beef Nachos (Vegetarian option also available)
All $14 each
*Please note that the room will be set up in a theatre style arrangement and all food will need to be consumed on laps inside the ballroom (or outside in the lobby or lounge areas).
Cheese platters will ONLY be available via pre-order. i.e. there will not be any option to purchase cheese plates on the night and must be pre-purchased online.
. . . . . . . . . . . . . . . . . . . . . . . . . . . . . . . . . . . . . . . . . . . . .
All events will strictly follow COVID safe procedures, as outlined by NSW Health.
Please read the ATTENDANCE REQUIREMENTS before purchasing:
Fusion Boutique & Palais Royale are registered COVID-SAFE businesses.
The health of our staff, performers and guests are of the highest priority. Thank you for your understanding while we navigate these current times.
• It is crucial that if you are experiencing any covid like symptoms (flu-like symptoms, fevers, sore-throats etc) that you please do not attend.
• All guests will have their temperature taken via a contact-less method on arrival.
• All guests will also have to sign in on a contact register when entering the venue. Sign-in must be done by providing accurate contact details (name and phone number or email address) and time of entry. Entry to patrons who will not provide valid contact information will be denied.
*** We will be providing contact-less check-in via QR code registration. To make this process smoother please download the Service NSW app prior to arrival: www.service.nsw.gov.au/campaign/service-nsw-mobile-app
When you arrive to the check in desk open the app and select "COVID Safe Check-in'. Once you have completed this process – show a Fusion Boutique staff member that you have signed in and then have your tickets verified.
• All bookings will have allocated seating and require group bookings.
Individual group bookings are unlikely to be able to be placed together unless requested prior to the event date.
• Please maintain physical distancing measures of 1.5m where possible.
• Hand washing and sanitising facilities will be available throughout the venue.
• Where possible, please use the COVIDsafe app.
• There will be no entry to the Grand Ballroom for guests prior to the stated doors open time.
PLEASE NOTE THAT THE CURRENT NSW PHO RESTRICTIONS have been extended until Monday 28 February, including:
• Hospitality venues, including pubs, clubs, restaurants and nightclubs must follow the one person per two square metre rule indoors (which means that the venue capacity is restricted to a lower total based on the 1/2m2 rule)
• Masks are required in all indoor settings (except residences)
• QR code check-ins are compulsory at certain premises, including hospitality venues and retail shops
• Singing and dancing is not permitted in hospitality venues, entertainment facilities, nightclubs, indoor music festivals and indoor major recreation facilities (except for weddings, performers, instructors and students).
More info: bit.ly/COVID-19Rules28Feb
. . . . . . . . . . . . . . . . . . . . . . . . . . . . . . . . . . . . . . . . . . . . . . .
Room configuration will be seated in theatre style rows and seating will be general admission.
Tickets discount pre-sale $30 + booking fees / person
Booking of 2 – $60 ($30 per ticket) + bf
Booking of 3 – $90 ($30 per ticket) + bf
Booking of 4 – $120 ($30 per ticket) + bf
etc
Ticket Link: https://events.humanitix.com/fbkingcurlylaunch

Or $35 each cash per ticket on the Grand Ballroom Door (after doors open and unless sold out prior).
Discount show pre-bookings will close 10am on the day of the event.
Pre-order cheese plates and bottles of wine will close 9am the day before the event.
Your ServiceNSW Discover Vouchers can also be redeemed for concert bookings. One voucher can be used in the payment process online through Humanitix or contact us prior to booking to discuss how a combination of vouchers can be redeemed together for bookings.

Guests can still book with confidence knowing that, while tickets are normally non-refundable, if a show needs to be cancelled for any reason then all tickets will of course be refunded. If a show needs to be rescheduled then tickets will be valid for the new dates. In the instance of guest illness tickets can be transferred on request.
Doors Open Ballroom 6pm | Show Start 7pm

This is an intimate capacity venue and tickets are strictly limited!
CONTACT DETAILS OF EVENT ORGANISER: Charity Mirow
For more information visit: www.fusionboutique.com.au