Fusion Boutique & The Carrington Hotel Present
'BANK NIGHTS' showcase sessions with
SARAH HUMPHREYS (Bathurst) +
TIM WOODZ (Melbourne)
Live at The Old City Bank
FREE LIVE MUSIC
Friday 1st December 2023
Show Starts 8pm

Venue: THE OLD CITY BANK BAR
15 Katoomba St, Katoomba NSW 2780, Blue Mountains.
Known for presenting unique and talented acts to the Blue Mountains over the last 14 years, Fusion Boutique is collaborating with the Old City Bank to bring the upper mountains even more quality live music at this casual and relaxed, iconic English style pub.
The OCB was built In 1912 as Katoomba's first bank building, converted to the Carrington Saloon Bar in the 1930's and in 1992 the bar was reopened after a change of ownership and a major renovation of the entire property. Since reopening, The Old City Bank Brasserie has won many awards for offering consistently good quality, innovative Pub food. In 2010 it was inducted into the Australian Hotels Hall of Fame.
. . . . . . . . . . . . . . . . . . . . . . . . . . . . . . . . . . . . . . . . . . . . .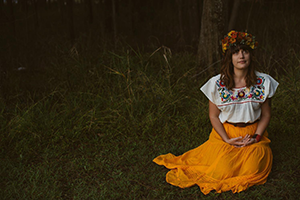 Depth of heart and sweetness of soul are two things that flow freely through the music of the beloved Australian folk singer, Sarah Humphreys. From delicate folk music to personal reveries, vibrant collaborations and rousing alt-country songs, Sarah has the ability to infuse it all with her innate sensitivity and an artisanal touch in the craft of song-writing.
Her fourth solo record, STRANGE BEAUTY is another tour de force of emotional and honest song-writing built on melody, melancholy and that sweet and untethered voice.
Sarah Humphreys has toured with and worked alongside artists including Katie Noonan, Kasey Chambers, Sara Storer, Fanny Lumsden, Liz Frencham, Loren Kate, Melody Pool, Kim Richey (USA), Charlie Parr (USA), Blind Boys Of Alabama (USA), Harry Hookey, James Reyne, Mark Seymour (Hunters & Collectors), Kevin Bennett, Glenn Hannah, Felicity Urquart, William Crighton and many more.
Sarah is an award winning session harmony singer, singing on ARIA award winning records, working as a singer for ABC Kids on Giggle & Hoot, ABC Kids education music and the annual Sing Australia Songbook and accompanying CD.
Her songs have been featured in Australian tv and film, including Charlie & Boots, Home & Away, Neighbours, Packed To The Rafters and more.
She is a beloved artist in Australia and features regularly on Australian radio including Triple J, high rotation on ABC Country, ABC National, Double J, RRR and is supported by countless community radio stations across the country.
"Sarah makes singing seem so effortless, graceful and easy that she leaves us feeling only the pure emotion of the words, of the song. She inspires other singers to higher heights. She sounds to me like the warm embrace of a wise, benevolent, beloved sister. She is the Karen Carpenter of our age, but with added spunk and grit." – Matt Tonks
"From the first time I heard Sarah Humphreys' beautiful voice I became her biggest fan. She writes songs from the heart that are real and captivating – just like the person she is." – Kasey Chambers
www.sarahhumphreys.com
www.facebook.com/sarahhumphreysmusic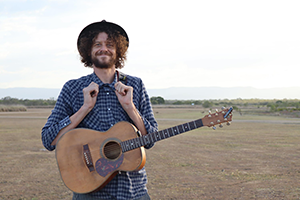 Tim Woodz is a singer songwriter with a love of story telling through interesting melodies and dance.
Winner of the Maldon Ministerial award (2011), toured with iconic musician Tex Perkins and Ruckman for the Rockdogs, Tim Woodz is "all grins and silly anecdotes" as he performs Jazzy folk tunes with a quirky narrative. Tim's songs provoke beautiful, nostalgic and charming imagery with energetic musical warmth.
"I always love seeing Tim play, if I'm not smiling before he's hit the stage, I definitely am once he's finished. And booking him for a support slot is always super easy because he's a professional, easy-going dude with a lot of music to share with the world." – Xani Kolac The Twoks
www.timwoodz.com
www.facebook.com/timwoodzmusic
2 x sets from 8pm.
. . . . . . . . . . . . . . . . . . . . . . . . . . . . . . . . . . . . . . . . . . . . .
All events will strictly follow COVID safe procedures, as outlined by NSW Health.
. . . . . . . . . . . . . . . . . . . . . . . . . . . . . . . . . . . . . . . . . . . . .
VENUE: THE OLD CITY BANK BAR
15 Katoomba St, Katoomba NSW 2780, Blue Mountains.
www.thecarrington.com.au/dine-drink/the-old-city-bank-bar-brasserie
www.facebook.com/OldCityBank
No bookings, just walk in, however the space is limited and first in best dressed!
For enquires call the Carrington reception on 02 4782 1111.
FREE ENTRY
1st Set Starts 8:00pm

MUSIC BOOKING CONTACT DETAILS: Charity Mirow / Fusion Boutique
For more information visit: www.fusionboutique.com.au