Nomadic Fish & Fusion Boutique Present 'Metro Social' with
PHILLIP HENRY & HANNAH MARTIN "EDGELARKS" (UK)
live in Concert at the 1930's Metropole Guesthouse.
Wednesday 17th January 2018, 6:30pm. Doors Open 5:30pm.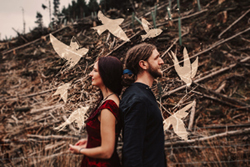 Phillip Henry and Hannah Martin return to Australia in January 2018, performing at Woodford, Cygnet and Illawarra Folk Festivals, plus shows in Brisbane, Melbourne, Hobart, Sydney, and Katoomba.  Launching their new album under a new name: "EDGELARKS".
Edgelarks fly in on the tailwind of BBC award winning duo Phillip Henry and Hannah Martin. The new band name comes with a new project, that takes the roots of their previous work, from the traditional musics of the British Isles to Indian classical slide guitar to the stomping roots party of Henry's beatbox harmonica, and adds a strong stem of original writing, running wilder with each repeat play.
The duo began their musical journey together while living in a small caravan in the hills near Exmouth, Devon. They were playing in alt-roots outfit, traveling from festival to festival, tent to tent, wandering the highways, byways and old forgotten pathways of these islands; following in the footsteps of the ancient troubadour tradition, picking up tunes, songs and stories along the way. Spotted busking on the seafront at Sidmouth Folk Festival by champion of independent music Steve Knightley, they soon found themselves touring nationally, supporting the likes of Show of Hands and Seth Lakeman, and eventually winning the prestigious "Best Duo" award at the 2014 BBC Folk Awards.
EDGELARKS (both the name of the new album and to be the new name for the duo) is about transitions. Their most innovative work to date, bringing a palette of new textures, the album explores the idea of the liminal: places, people and times, the straddling of boundaries and thresholds. Crossroads and borderlines; travellers and refugees; dusk and dawn; the pause between an old way and a new. The idea that, despite often being places of marginalisation, these are also places of change – and therefore places of hope. That in the end we have far more in common than things that divide us, because we are all liminal: standing on the threshold of tomorrow, we are all just passing through.
The Lancashire/Devon duo made their first appearance in Australia in March/April 2015, performing to standing ovations at Port Fairy Folk Festival, Blue Mountains Music Festival and Fairbridge Folk Festival, as well as a string of house concerts, folk clubs and music venues.  They return in January 2018, launching their new album, some of which was inspired by their experiences on tour here, particularly in Tasmania.
Phillip Henry : Dobro, harmonica, guitars, vocals
Hannah Martin :  Violin, banjo, acoustic guitar, shutri box, vocals
AWARDS:
~ Winner "Best Folk Duo", BBC Folk Awards 2014.
~ Nominated "Best Folk Duo", BBC Folk Awards 2016.
QUOTES / REVIEWS:
"Imaginative dobro, guitar and harmonica work … evocative fiddle and banjo playing and enchanting vocals.": ★★★½ – Tony Hillier, The Australian
"Virtuosity, intensity and charisma… Subtle, atmospheric, bravely original." – The Guardian
"One of the best duos on the planet." – BBC
"Extraordinary… I was absolutely blown away by them." – Tom Robinson, BBC 6Music
"Evocative stories, wonderful arrangements – Henry and Martin stand out from the current flood of young British folk musicians." – Mojo ****
"I was completely knocked out by this duo… On hearing the first notes of the first track I knew that I was listening to a modern classic." – Mike Harding, BBC Radio Two

www.philliphenryandhannahmartin.co.uk
www.facebook.com/philliphenryandhannahmartin
. . . . . . . . . . . . . . . . . . . . . . . . . . . . . . . . . . . . . . . . . . . . .
VENUE: 'METRO SOCIAL' Metropole Guesthouse Lounge Upstairs (lift available) Cnr of Lurline and Gang Gang Streets, Katoomba, Blue Mountains NSW 2780.
Opposite the Katoomba train station.
There is limited parking available at the rear of the property. Access can be made through the rear and the lift to the lounge is in the atrium.
If entering from the front the cocktail bar/restaurant is on the right and access to the upstairs performance space in the lounge is up the stairs or via the lift towards the back of the hotel.
The Metropole is a family friendly venue!
*Minors must be accompanied by a parent or guardian and supervised.
Children do require a ticket for entry.
There is also a retro cocktail bar downstairs and drinks and light meals will be available from the Metro Retro pop up bar upstairs once doors open.
Doors Open 5:30pm. Show Starts 6:30pm.
General Admission. Theatre Style Seating, cocktail lounge and some standing room.
Tickets $20 DISCOUNT pre-sale available from THE METROPOLE GUESTHOUSE (during reception hours) Cnr of Lurline and Gang Gang Streets, Katoomba, Blue Mountains NSW 2780. (Cash Only)
Or + b/f Card /Phone 02) 4782 5544 and Online $21.50 (Including booking fees): www.stickytickets.com.au/58682
Or $25 on the Door from 5:30pm (Unless Sold Out)
This is an intimate seating venue and tickets are strictly limited!

CONTACT DETAILS: Charity Mirow 0409 042 869
For more information visit: www.fusionboutique.com.au