BARRY MORGAN IS… SPACED OUT
Fri 7th October 2016 8pm
Barry Morgan is the ultimate home organ salesman and owner of the World Of Organs store situated in the beautiful Sunnyside Mall, Adelaide.
When he's not busy giving the public the best organ deals in town, you can catch him performing live, sharing the 'Joy Of The Organ'.
Barry wants to take audiences out of this world where no organ has gone before with his new offering. For Space Travellers and Organ Lovers alike, Barry will play all the great cosmic hits from Star Wars to Space Invaders and beyond! You will be dancing amongst the stars as you get Spaced Out with Barry Morgan!
Barry Morgan rose to fame after performing on ABC's Spicks and Specks where he became an instant audience favourite. After his Spicks and Specks Finale appearance, Barry trended #2 on Twitter, as the Australian public's love for this character grew. Barry's gone on to grace our screens on numerous shows such as Gordon Street Tonight, The Marngrook Footy Show and ABC's New Years Eve Pub Quiz; as well as becoming a favourite guest on radio.
Barry has sold out live shows Australia wide including Melbourne Comedy Festival, Sydney Comedy Festival, Melbourne, Adelaide and Perth Fringe, the famous Spiegeltent; and performed to adoring young crowds at Homebake and Falls Festival. Barry has even travelled his show overseas to the NZ Comedy Festival and Edinburgh Fringe.
"Sheer Magnificence" ***** – Five AA
"Whatever the reason, DO NOT MISS THIS SHOW!!" *****  – Johnathon Graham, FunnyTonne
'The stuff cult figures are made of. Allow him to make your festival.' ****  – The List, Edinburgh
"The show is a triumph of character comedy with a broad appeal. See it. Enjoy It. Buy an organ." **** – Scotsgay, Edinburgh
"You'd have to have a heart of stone not to love a well-coiffed, safari-suited organist extraordinaire" **** – Megan Miller, Herald Sun, Melbourne
"With one hand on his organ and another on the pulse of his audience, cult hit Barry Morgan unleashed his 1981 Hammond Aurora Classic on an enthusiastic crowd." ****
 – The Advertiser, Adelaide
"This is entertainment with a capital E. Who knows, Adelaide's own Barry Morgan may yet become this city's greatest icon. Bigger than Don Dunstan, bigger than Bung Fritz!" Indaily's Blog – Fringe Reviews music, Peter C Pugsley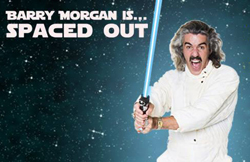 www.mrbarrymorgan.com/events
www.facebook.com/mrbarrymorgan
VENUE: BLUE MOUNTAINS THEATRE & COMMUNITY HUB
104-108 Macquarie Road, Springwood NSW 2777.
Ph: (02) 4723 5050
Monday – Friday 9am – 5pm
Email:
Web: www.bluemountainstheatreandhub.com.au

Ticket prices are Adult $35, Concession $32 and Child 12 & Under $22.
Tickets can be purchased online at any time or over the phone or in person Monday to Friday 9am – 5pm from the Blue Mountains Theatre & Community Hub.
Ticket Link: www.bluemountainstheatreandhub.com.au/box-office
CONTACT DETAILS: Charity Mirow 0409 042 869
For more information visit: www.fusionboutique.com.au