Nomadic Fish & Fusion Boutique Present
VULGARGRAD (Melbourne)
+ Special Guests Raduga Trio (Blue Mtns)
Live in concert at the Baroque Room, Carrington Hotel

Fri 5th April 2019
Venue: BAROQUE ROOM 86 Bathurst Rd (Upstairs from 'The Harp & Fiddle' Irish Bar)
– NEW ENTRY VIA THE CARRINGTON HOTEL DRIVEWAY –
Katoomba, NSW 2780 Blue Mountains.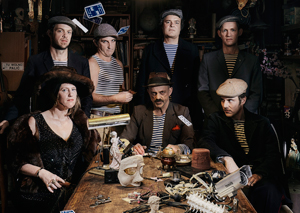 Everybody's favourite Russian criminals make their long-awaited return to Australian stages, launching their much-anticipated new album, "The Odessa Job". The band has amassed an incredibly dedicated fan-base over the last 14 years, but for those who don't know, VulgarGrad are a seven-piece band that play music by, for, and about Russian criminals – raw, raucous, and rude (particularly if you understand Russian).
VulgarGrad frontman and infamous Polish ne'er-do-well, Jacek Koman, is the rough diamond of stage and screen, known for his vocals on Roxanne from Baz Lurhmann's Moulin Rouge and seen in The Great Gatsby.
He has just been released from penal servitude in the chilly film and TV studios of Warsaw, but only on a temporary basis. VulgarGrad are only likely to have a handful of Australian shows in 2019, so make sure you catch them before they get away.
After a tantalisingly lengthy wait (ten years!), the band now has a new album:  "The Odessa Job", launching this April at the recently refurbished Baroque Room in Katoomba (Friday 5th April), and Camelot Lounge in Marrickville (Saturday 6th April) + Django bar (Sunday 7th April 2019).
The first single from the new album "I Remember"  ("Помню я") is a psychedelic Soviet prison ode to the memory of dear mama, who always warned us not to hang out with thieves.
Be prepared for a night of gun-slinging, vodka-swilling, foul-mouthed disorder, and watch out for the biggest, most triangular instrument you will ever see, the contrabass balalaika.
Experience drunken songs, inebriated waltzes, manic stomps, hot swing from the Cold War days along with punk classics of the Perestroika era.
Wear a striped top and learn to swear in Russian, and you will dance or the trumpeter will shoot you.
www.vulgargrad.com
www.facebook.com/VulgarGrad
 . . . . . . . . . . . . . . . . . . . . . . . . . . . . . . . . . . . . . . . . . . . .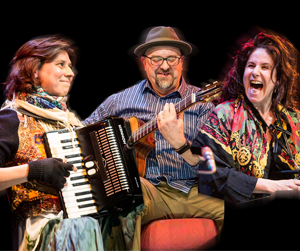 + Special Guests Raduga Trio
"Raduga"– from Russian meaning rainbow or joyous arch – is an eclectic, energetic and exciting take on a raw gypsy style. Original compositions and arrangements of melodies and songs from around the world on the clarinet, piano accordion, ukulele and Gitano guitar, flavoured with tap dance and singing in Slavic and Roma languages. The trio plays without looping or digital devices – a truly live performance with high audience participation, expressed in dancing, clapping and sing alongs!
 . . . . . . . . . . . . . . . . . . . . . . . . . . . . . . . . . . . . . . . . . . . .
Venue: BAROQUE ROOM
86 Bathurst Rd (Upstairs from 'The Harp & Fiddle' Irish Bar)
Katoomba, NSW 2780 Blue Mountains
*** NEW ENTRY VIA THE CARRINGTON HOTEL DRIVEWAY KATOOMBA ST ***
Come and enjoy the new refurbishments of this terrific room!

Doors Open 8pm. Show Starts 8:30pm.
General Admission. Room configuration is a mix of standing/dancing and cocktail tables and lounges.
*Please note that this event is an over 18 years only. No minors will be granted entry to the event.
Tickets DISCOUNT Early Bird pre-sale $20 available from:
KATOOMBA MUSIC, 140 Katoomba St, Katoomba, NSW 2780 (Tues-Sat. Cash Only)
Or (Cash/card) CARRINGTON HOTEL reception
02 4782 1111
15-47 Katoomba St, Katoomba.
Or online $21.50 (Including booking fees):
www.stickytickets.com.au/81359
Or $25 (CASH) on the Door from 8pm (Unless Sold Out)