Fusion Boutique Presents 'Live At The Attic' with
THE SOUTH CAROLINA BROADCASTERS (USA)
Featuring Jackson Cunningham from The Whitetop Mountaineers
Live in Concert, upstairs at Hotel Blue
Friday 22nd November 2019, 7pm. Doors Open 6pm.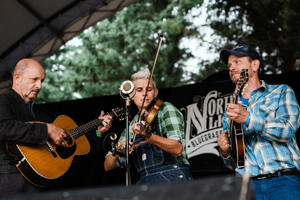 The South Carolina Broadcasters are the "real deal" when it comes to Old-Time Bluegrass music, or "primitive bluegrass", as they sometimes call it. Their razor sharp harmonies, exceptional multi-instrumentation, and fabulous song selection will have listeners riveted to their seats. Wherever they perform, audiences connect with the Broadcasters through their heartfelt songs and good old-fashioned entertainment.
Their material ranges from the Old-Time mountain music of Appalachia, through Carter Family country classics, and Cajun music, to original tunes that sound like they've come from the past.
The trio consists of David Sheppard (guitar & vocals), Ivy Sheppard (fiddle, banjo, & vocals) and new band member, Jackson Cunningham from The Whitetop Mountaineers (mandolin, guitar, & vocals).
This is the Broadcasters' first Australian tour, playing the Dorrigo Folk & Bluegrass Festival, the Maldon Folk Festival and MountainGrass Festival, and a number of other gigs in NSW, Victoria and the ACT. However, Jackson has toured here a number of times with The Whitetop Mountaineers, playing all the major folk festivals including Port Fairy, the National, and Blue Mountains festivals, and numerous successful gigs, including a sell-out show at The Metropole, Katoomba on their last tour here in January 2017!
"I'd like to think that if AP Carter had had more time to think about it and work things out, the Carter Family would have been singing like the Broadcasters." – Tim O'Brien
"Clear, powerful playing. Great singing. Respect for the past, all the while setting the bar high for musicians of the future. Strong music." – Joe Newbury
www.facebook.com/scbroadcaster
Video: https://www.youtube.com/watch?v=JaVk31V9MXg&feature=youtu.be
. . . . . . . . . . . . . . . . . . . . . . . . . . . . . . . . . . . . . . . . . . . . .
VENUE:
HOTEL BLUE 'LIVE AT THE ATTIC' Upstairs,
88 Lurline St, Katoomba, NSW 2780
Blue Mountains
The main entrance and reception are accessible via Merriwa St.
The upstairs performance space is in the function room on the top floor.
Access can be made up the stairs at the back of the lounge area.
Drinks and meals will be available for purchase from the bar downstairs.
*Please note that there is no bar on the level of the performance room.
Hotel Blue is an all ages venue however minors must be accompanied by a parent or legal guardian and must remain supervised and do require a standard ticket for entry. Please also keep in mind that the performance space is a seated listening room.
Doors Open upstairs 6pm. Show Starts 7pm.
General Admission. Theatre Style Seating.
Tickets DISCOUNT $25 pre-sale available from Hotel Blue reception (during reception open hours) 88 Lurline St, Katoomba, NSW 2780. (Cash Only)
Or + b/f Card /Phone 02) 4782 6922 and Online $27.50 (Including booking fees):
www.stickytickets.com.au/90805
Or $30 cash on the Door from 6pm (Unless Sold Out)
This is an intimate capacity venue and tickets are strictly limited!

CONTACT DETAILS: Charity Mirow 0409 042 869
For more information visit: www.fusionboutique.com.au