Fusion Boutique Presents 'Metro Social' with
LINDSAY LOU & BAND (MICHIGAN/NASHVILLE)
+ Special Guests SMITH & JONES
Live in Concert at the 1930's Metropole Guesthouse.
Saturday 5th January 2019, 6pm. Doors Open 5pm.
*** This show is now SOLD OUT!
For a fabulous range of other Blue Mountain events visit: www.fusionboutique.com.au
We advise booking early to avoid disappointment.  ***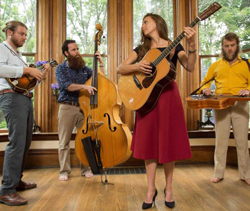 Lindsay Lou and her band keep one foot in The Great Lakes State of Michigan with the soul of Motown, and one in Music City, USA: Nashville, TN. They still embody the soul of a good jam or late night pickin' session, and also have honed in on a sound that's entirely their own drawing from soul, blues, folk, jazz and maybe even traces of a techno beat.
As a vocalist, Lindsay falls into an elite category, along with her band of equally gifted musicians playing their own brand of Americana, Lindsay Lou is a not to be missed act.
"This is music that's caught between the pull of the past and the push of the beckoning future, ready to leap forward bursting with new ideas and youthful energy." – Devon Ledger, Hearth Music

Video: https://www.youtube.com/watch?v=cFjByii_Q4g
Web: www.lindsayloumusic.com
. . . . . . . . . . . . . . . . . . . . . . . . . . . . . . . . . . . . . . . . . . . . . .
+ Special Guests SMITH & JONES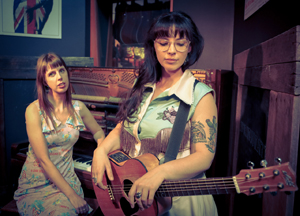 Smith & Jones are a duo from Bathurst, made up of keyboard player and vocalist Abby Smith, with guitarist and vocalist Sophie Jones. In late 2016 Smith & Jones finished recording their debut album, 'Dark Gives Way', with Michael Carpenter at Love Hz in Sydney. This album's first three singles, 'Baby Blue', 'Small Town Woman' and 'Your Achin' Heart', all went to number one on the internet's Australian Country Radio charts and also charted in Tasmania over four weeks. In October 2018 Smith & Jones will be heading back into the studio to record their second album, which will be released and toured in 2019. Though their roots will always remain in the foundations of country music, their originals have found an undefinable energy of their own. Part classic country ballads, part sweet jazz standards, and often with a tongue firmly planted in their cheek, their beauty is in their harmonic simplicity and lyrical power.
www.facebook.com/SmithandJones.music
. . . . . . . . . . . . . . . . . . . . . . . . . . . . . . . . . . . . . . . . . . . . .
VENUE:
'METRO SOCIAL' Metropole Guesthouse Lounge Upstairs (lift available) Cnr of Lurline and Gang Gang Streets, Katoomba, Blue Mountains NSW 2780.
Opposite the Katoomba train station.
If entering from the front the cocktail bar/restaurant is on the right and access to the upstairs performance space in the lounge is up the stairs or via the lift towards the back of the hotel.
Access can also be made through the rear and the lift to the lounge is in the atrium.

The Metropole is an all ages venue however minors must be accompanied by a parent or legal guardian and must remain supervised and do require a standard ticket for entry. Please also keep in mind that the performance space is a listening room.
Drinks and light meals will be available from the Metro Retro pop up bar upstairs once doors open.
Doors Open 5pm. Show Starts 6pm.
General Admission. Theatre Style Seating, cocktail lounge and some standing room.
Tickets $20 DISCOUNT pre-sale available from THE METROPOLE GUESTHOUSE (during reception hours) Cnr of Lurline and Gang Gang Streets, Katoomba, Blue Mountains NSW 2780. (Cash Only)
Or + b/f Card /Phone 02) 4782 5544 and Online $21.50 (Including booking fees):
www.stickytickets.com.au/76812
Or $25 on the Door from 5pm (Unless Sold Out)
This is an intimate seating venue and tickets are strictly limited!

CONTACT DETAILS: Charity Mirow 0409 042 869
For more information visit: www.fusionboutique.com.au