*SOLD OUT* For a range of other wonderful live music events at various Blue Mountains venues visit: www.fusionboutique.com.au
We advise booking quickly to avoid disappointment!

Fusion Boutique and Equinox present
ODYSSEY – Byron Mark Septet
A Night of World Music Performance & Flamenco Dance
Live in Concert at the Palais Royale Grand Ballroom

Sat 1st April 2023
6:00pm – Doors open to the Grand Ballroom
7:00pm-7:40pm Set 1
Intermission
8:15pm-8:55pm Set 2
Venue: PALAIS ROYALE 230 Katoomba St, Katoomba, NSW 2780, Blue Mountains

An aurally and visually stunning event in the beautiful Palais Royale Grand Ballroom
. . . . . . . . . . . . . . . . . . . . . . . . . . . . . . . . . . . . . . . . . . . .
Join us for a Spanish inspired evening where musician and composer Byron Mark and an ensemble of musicians perform Byron's latest album 'ODYSSEY' which is scored for piano, string quartet, tabla, cajon and percussion. It explores Flamenco and Indian rhythms, along with Classical and Jazz harmonies, and so much more!
Byron Mark is a professional percussionist, pianist and composer, who has established himself as an in-demand funk, flamenco, jazz, and pop performer both in Australia and internationally. Beginning with study in classical piano from a young age, Byron continued on to learn drums, percussion and saxophone, and has pursued specialist training on cajon in Spain and djembe in West Africa. "I love sounds and I love rhythm. Combining these, I love to create music. From a young age, I would tickle the ivories or tap out beats on anything I could find, and years later, nothing much has changed – in fact I probably do those things a whole lot more now! What has changed though is my musical awareness and knowledge, which continues to grow everyday on the lifelong journey of music." – Byron Mark

After many tours and performances with flamenco ensembles around Australia, Byron has developed a strong passion for flamenco rhythms. He is using this knowledge to craft unique compositions inspired by flamenco palos, yet coloured with Latin and Jazz rhythms/harmonies, whilst staying true to his classical piano roots. With this, the 'Byron Mark Septet' was formed – and is a powerful live ensemble, with members from all around the world.

'ODYSSEY' explores the sonic possibilities when combining keys with a traditional string quartet, percussion, and flamenco dance.
Byron will be performing on keyboard and cajon as part of the septet, along with a stellar ensemble including a string quartet, and cajon and tabla players.
Guest flamenco dancer Lauren Majarres will perform on an elevated dance floor stage in featured pieces throughout the concert.
It is mesmerising to watch the connection between the dancer's footwork and the rhythms and melodies from the ensemble.

Byron's debut album 'AMALGAMATION' in 2016 earned him top 5 in Australia for instrumental composition at the Australian Independent Music Awards. His current projects include percussionist and pianist for various flamenco ensembles in Sydney, including Paco Lara, 'Arrebato Ensemble' and Flamenkisimo. Byron also plays keyboards in the Frank Zappa show 'Petulant Frenzy', and keyboard/percussion in rhythm and movement ensemble 'Jamestown Collective'. He is also well known for his unique 'percussion station' performance setup when playing in pop duo/trio formats – playing keyboards and percussion simultaneously.

"The performers exuberance was infectious" – ClassikON
"Byron's piano tinkles, trills and rollicks along; mellifluous, even while exploring jazz & flamenco motifs." – Syke off Stage
Odyssey Showreel: https://www.youtube.com/watch?v=W5VyAdZgzLE
www.byronmark.com
www.facebook.com/byronmarksydney
www.instagram.com/byronmarkmusic

. . . . . . . . . . . . . . . . . . . . . . . . . . . . . . . . . . . . . . . . . . . . . .
Equinox – Autumn Celebration of the Senses
This event is made possible by $2.6 million from the Bushfire Local Economic Recovery Fund, co-funded by the Australian Government and NSW Government. With the grant Blue Mountains Tourism, as the leading tourism authority in the region, will administer and manage the Blue Mountains Visitor Economy Revitalisation Project, a two-year destination management program that will reinstate the Blue Mountains as a key tourist destination in NSW and Australia.
. . . . . . . . . . . . . . . . . . . . . . . . . . . . . . . . . . . . . . . . . . . . . .
VENUE: PALAIS ROYALE GRAND BALLROOM 230 Katoomba St, Katoomba, NSW 2780 Blue Mountains
To discuss details of the PALAIS ROYALE BOUTIQUE HOTEL or to make an accommodation booking:
Email:
Phone: (02) 4784 6300
www.palaisroyale.com.au
The Palais Royale is an all ages venue however minors must be accompanied by a parent or legal guardian and must remain supervised and do require a standard ticket for entry. Please also keep in mind that the performance space is a listening room.

All events will strictly follow COVID safe procedures, as outlined by NSW Health.
Please read the ATTENDANCE REQUIREMENTS before purchasing:
Fusion Boutique & Palais Royale are registered COVID-SAFE businesses.
The health of our staff, performers and guests are of the highest priority. Thank you for your understanding while we navigate these current times.
• It is crucial that if you are experiencing any COVID like symptoms (flu-like symptoms, fevers, sore-throats etc) that you please do not attend.
• Please maintain physical distancing measures of 1.5m where possible.
• Hand washing and sanitising facilities will be available throughout the venue.
• There will be no entry to the Grand Ballroom for guests prior to the stated doors open time, however drinks and food can be purchased via the outside lobby bar from 5pm.
. . . . . . . . . . . . . . . . . . . . . . . . . . . . . . . . . . . . . . . . . . . . . .
The Palais Royale Lobby Bar will be open from 5pm for guests to purchase items from a special light Spanish inspired Tapas Menu and a range of beverages (beer, wine, cider, spirits, soft drinks and hot drinks) and glasses of Sangria.
PALAIS ROYALE TAPAS MENU (Available from 5pm – 8:15pm 1/4/23)
Olives and Mollete Veg $10
Champignons Al Ajillo (Garlic mushrooms) Veg, GF, DF $12
Patatas Bravas (Fried Potato) Veg, GF, $12
Croquettes, Salsa Brava, Aioli (potato & beef croquettes) $12
Gambas a la Parrilla (grilled prawns) GF, DF $16
Chorizo al Vino Tinto (wine braised chorizo) GF $16
Sangria Glass $14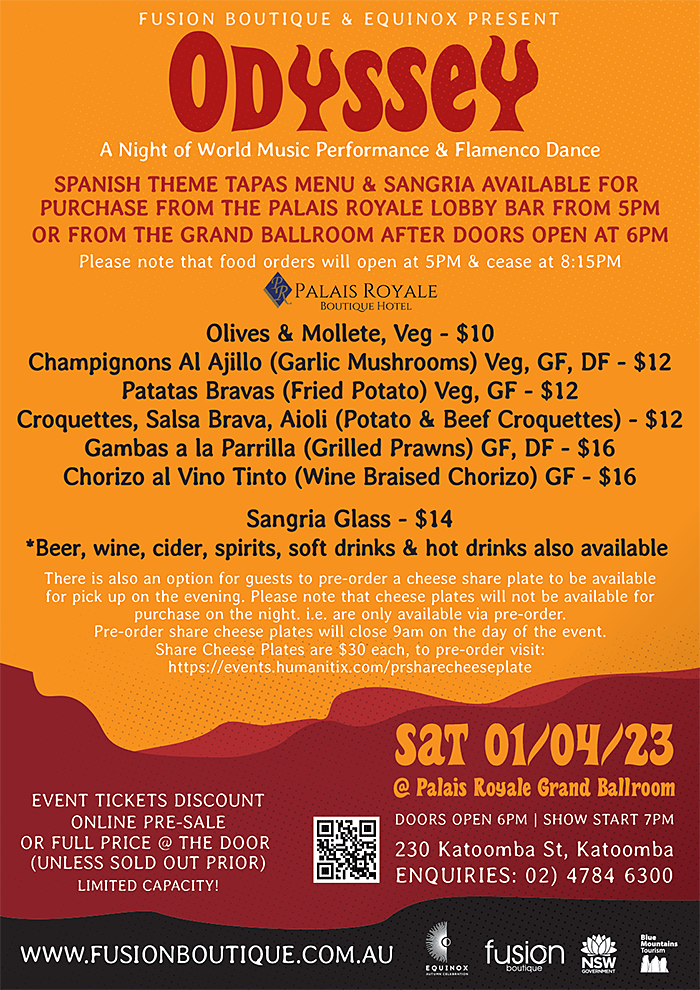 The Tapas Menu light meal options will be available for purchase on the evening from 5pm from the Lobby Bar and from 6pm from the Ballroom.
Please note that food orders will open at 5pm and cease at 8:15pm.
There is also an option for guests to pre-order a cheese share plate to be available for pick up on the evening. Please note that cheese plates will not be available for purchase on the night. i.e. are only available via pre-order. Pre-order share cheese plates will close 9am on the day of the event. Share Cheese Plates $30 each, to pre-order visit:
https://events.humanitix.com/prsharecheeseplate

. . . . . . . . . . . . . . . . . . . . . . . . . . . . . . . . . . . . . . . . . . . . . . .
Doors Open to the Grand Ballroom 6pm (no guest access prior)
Set 1: 7:00-7:40pm
35min intermission
Set 2: 8:15-8:55pm
Byron will also be available for a meet and greet and merchandise sales following the performance. We ask that guests keep noise to a minimum on conclusion of the event. The Palais Royale Grand Ballroom pop up bar will close at 8:15pm however the lobby bar will continue trading until 9:30pm should guests wish to enjoy any further drinks on conclusion of the performance and utilise the lobby bar and lounge areas
Room configuration will be seated in theatre style rows and seating will be general admission in 2 sections.
Discount pre-sale online tickets will close 5pm on the day of the event.
A Reserve $55 pre-sale + BF / $65 door
B Reserve $50 pre-sale + BF / $60 door
Ticket Link: https://events.humanitix.com/fbodyssey
Tickets at the Grand Ballroom Door are full price and require cash payment (after doors open at 6pm and only unless not sold out prior).
Discount show online pre-bookings will close 5pm on the day of the event.
Guests can still book with confidence knowing that, while tickets are normally non-refundable, if a show needs to be cancelled for any reason then all tickets will of course be refunded. If a show needs to be rescheduled then tickets will be valid for the new dates. In the instance of guest illness tickets can be transferred on request.
This is an intimate capacity venue and tickets are strictly limited!
CONTACT DETAILS OF EVENT ORGANISER: Charity Mirow
For more information visit: www.fusionboutique.com.au